Three quirky new microphones from Gibson promise improved audio broadcasts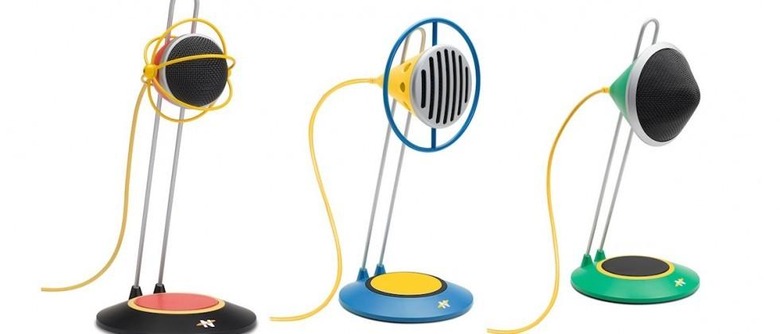 Neat Microphones, a sub-brand of guitar-maker Gibson, has just unveiled three new desktop mics the feature a style straight out of Back to the Future II's idea of the year 2015 from the 1980's. Dubbed Widgets, the three new mics feature colorful designs meant to look nice on any desk, as well as have their own specialty function. And priced at $99 each, they won't break the bank when it comes to making a step up from a laptop's built-in microphone.
Each of the Widgets connects to a computer with a single USB cable, so there's nothing complicated involving things like a pre-amp or adapters. They all feature adjustable heights and a filter to help prevent sudden volume spikes. If the designs weren't quirky enough, then the naming convention should sell you: there's Widget 'a' (the green one), Widget 'b' (red), and Widget 'c' (yellow).

What's neat is that each model offers their own set of aesthetics, depending on what users are looking for. Widget 'a' is intended to serve as a general-purpose mic for just about any home or office use. Widget 'b' is meant for clarity in spoken voice situations, so Skype calls or other teleconference situations. Lastly, Widget 'c' is aiming for musicians and podcasters.
NOTE: While each of these mics is meant for a different crowd of users, they're all sonically the same. They just look a little different – the choice of appearance is all yours.
Gibson says the Widget line-up will be launching on November 15th, and can be found at retailers including Best Buy, Walmart, and Amazon.
VIA Gizmodo
SOURCE Neat Microphones