This Nissan Leaf NISMO RC all-electric racer is outrageous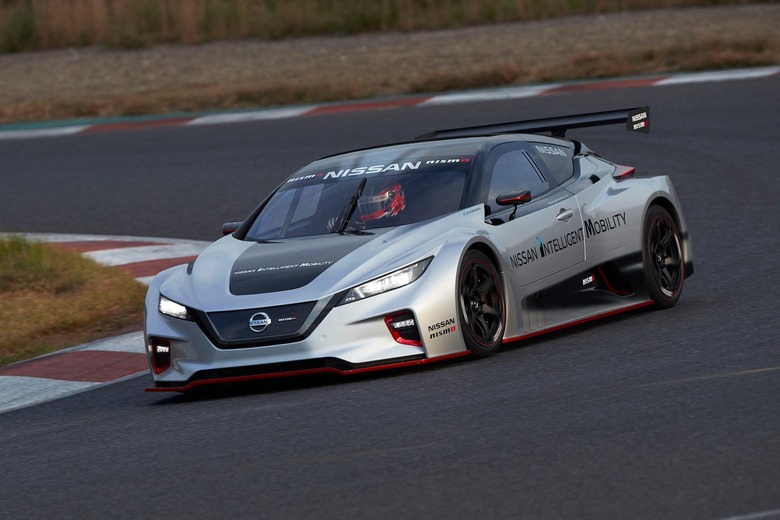 You may look at the Nissan Leaf and think "green urban runabout," but the automaker's NISMO racing specialists saw serious race potential in the electric car. Witness, then, the all-new – and seriously appealing – Nissan Leaf NISMO RC, the regular Leaf's bonkers racing sibling, complete with a whole lot of power.
Nissan may have brought refreshes of the Murano and Maxima to the LA Auto Show 2018 this week, but it saved the Leaf NISMO RC all for itself in Japan. It'll debut on the track on December 2, at the annual NISMO Festival at Fuji International Speedway. There, it'll take pride of place next to the new Nissan Formula E car.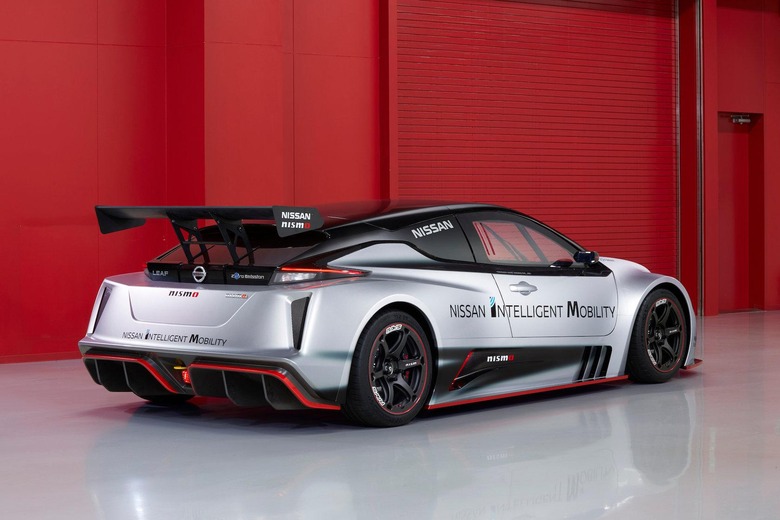 As with an old friend with new plastic surgery, you have to look closely to see the regular Leaf hatchback underneath the NISMO RC changes. The bodywork has been seriously overhauled, with an aggressively long hood leading to Nissan's V-motion grille. Silver and black paint is picked out with NISMO's traditional red accent color.
The front and rear sections are removable, and the whole car is almost 15 feet long with a 9 foot wheelbase. However it's significantly lower to the asphalt than a regular Leaf. In fact, at at under 48 inches tall, it's about a foot lower down.
Underneath is a full carbon-fiber racing monocoque structure, to which Nissan and NISMO have bolted a variety of new parts. The regular Leaf donates its high-capacity lithium-ion battery and inverters, but here they feed the Leaf NISMO RC's two 120 kW electric motors. Together they deliver 240 kilowatts and over 470 lb-ft of torque.
It's all-wheel drive, with power managed independently to the front and rear axles. The battery pack is placed in the center to help with balance, while the electric motors and inverters are positioned right over the wheels. Total weight is around 2,690 pounds.
Of course, the big thing here is performance. Nissan says the Leaf NISMO RC will do 0-62 mph in 3.4 seconds, making it 50-percent faster than the old car. That's courtesy of more than double the maximum power and torque of the racer's predecessor.
"The all-new Leaf NISMO RC shows how we're setting our sights even higher when it comes to raw power and performance," Executive Vice President Daniele Schillaci, Nissan's global head of marketing, sales and electric vehicles, said of the car, "making electric vehicles even more exciting for customers."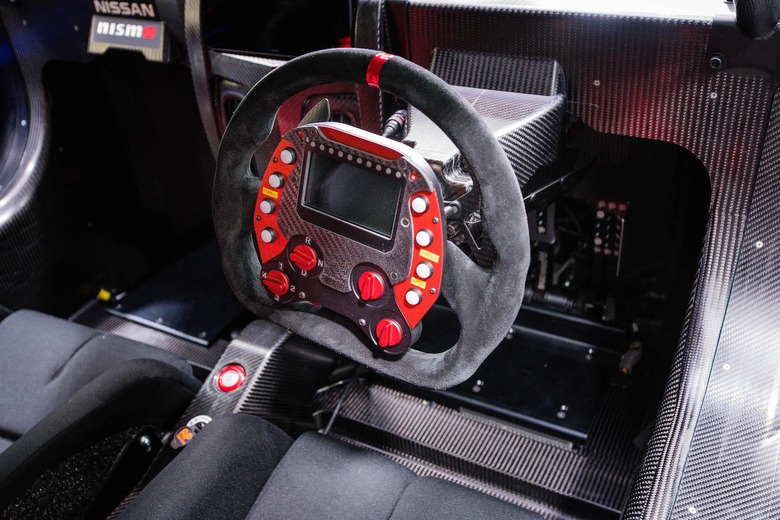 Sadly, that doesn't extend to actually selling them. While this might seem the perfect addition to Nissan dealerships – we can see it sitting nicely alongside the Nissan GT-R for those who demand some green with their grunt – the automaker only plans to make six of them in total. They'll be used as EV halo vehicles around the world, with demonstrations at major shows along with Formula E races.