This new HTC VIVE deal makes you a Star Trek: Bridge Control captain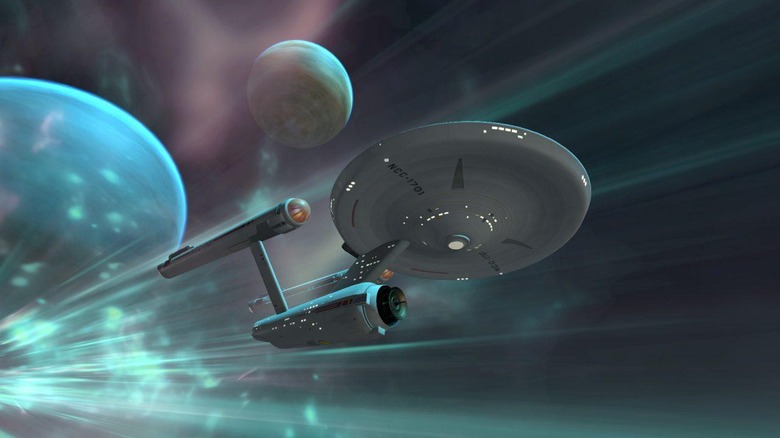 If you're looking to pick up an HTC VIVE, now might be the time to do so. Though the headset isn't on sale, HTC has rolled out a new promotion that makes for a pretty tempting offer. Beginning today, all HTC VIVE purchases will come with a free copy of Star Trek: Bridge Crew.
For the uninitiated, Star Trek: Bridge Crew is a multiplayer VR game that puts you and your friends in control of a Star Trek starship called the USS Aegis. While that's not the most famous ship in Star Trek lore, die-hard fans will be pleased to know that you can still take command of the Enterprise itself.
There are four roles in all that need to be filled: captain, helm, engineer, and tactical. You and your team will work together to complete the game's story mode, which involves relocating a Vulcan population to a dangerous area of space known as The Trench. Star Trek: Bridge Crew sounds fairly fleshed out as far as content goes, with an "ongoing missions" mode you can tackle once you've completed the game's main story.
While Star Trek: Bridge Crew will be included in all HTC VIVE purchases, there are also a couple new hardware bundles that feature the game. The first packs together a VIVE with an MSI Radeon RX 580 GPU, while the other invites you to build a new gaming PC through CyberPower PC.
In order to qualify for the free copy of the game, the PC you build has to include an Intel Core i7-6800K, i7-6850K, i7-6900K or i7-6950X Extreme Edition, and at least a Radeon RX 580 or GeForce GTX 1060. Of course, you'll also need to pick up a VIVE, because aside from the fact that it won't be a qualifying bundle without it, you also wouldn't be able to run the game.
The VIVE and Radeon bundle will be available through a number of retailers including Amazon, Fry's, Newegg, and Micro Center. For those of you who already have a VIVE and just need the game, Star Trek: Bridge Control is out today on Steam, so have at it.
SOURCE: HTC VIVE