This Mahindra Roxor Is A Modern Willys With Just One Downside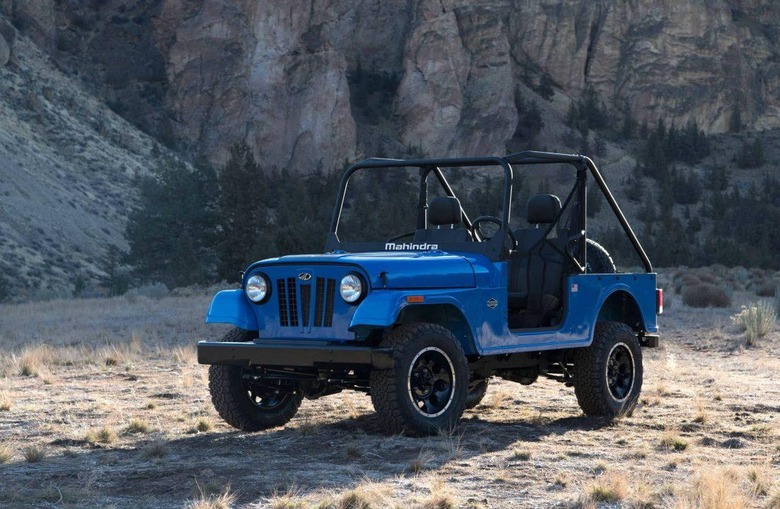 What do you do when the Jeep Wrangler has strayed too far from its pared-back roots, but you need a modern go-anywhere off-roader? Mahindra believes it has the answer with the new Roxor, an appealingly back-to-basics little Willys-alike that despite the automaker's Indian origins, will actually be made in Detroit, MI.
It's the first play of Mahindra's tentative efforts to break into the US market, and it'll see the company employ around 300 people initially to manufacture the Roxor. That's expected to grow by another 400 employees – not to mention $600m or so into Detroit's economy – by 2020. In short, you may not be familiar with the Mahindra name, but it's looking to do something about that.
The resemblance between the new Roxor and the classic Jeep is no accident, mind. Indeed, the company began its automotive work seven decades ago, with a license to build Willys vehicles for sale in Asia. The styling has been tweaked somewhat for this US debut, given Jeep's lawyers are probably watching with no small degree of interest.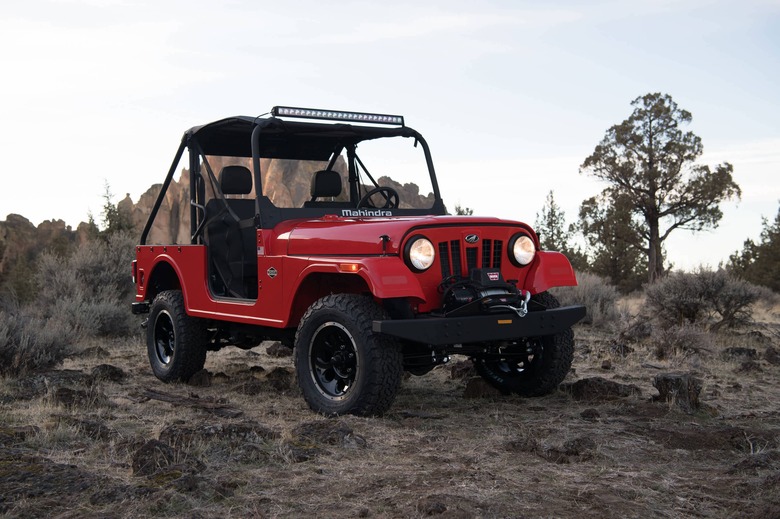 Unfortunately for those swayed by the Roxor's pleasingly-retro looks – and its $15.5k starting price – you shouldn't expect to see it on public roads. That's because it's not actually road-legal: instead, it's intended to compete in the Size x Side category, and be put to work on ranches and other off-road situations. There, the automaker points out, it has some big advantages over the vehicles you'd typically expect to find.
Rather than a plastic body and a belt-based drivetrain, Mahindra has opted for a steel body on a boxed steel frame and one of its own 2.5-liter turbo-diesel engines. That 4-cylinder is combined with a 5-speed manual transmission, too, and all-wheel drive. Though you're only looking at 62 horsepower and 144 lb-ft of torque, the latter arrives from just 1,400 rpm.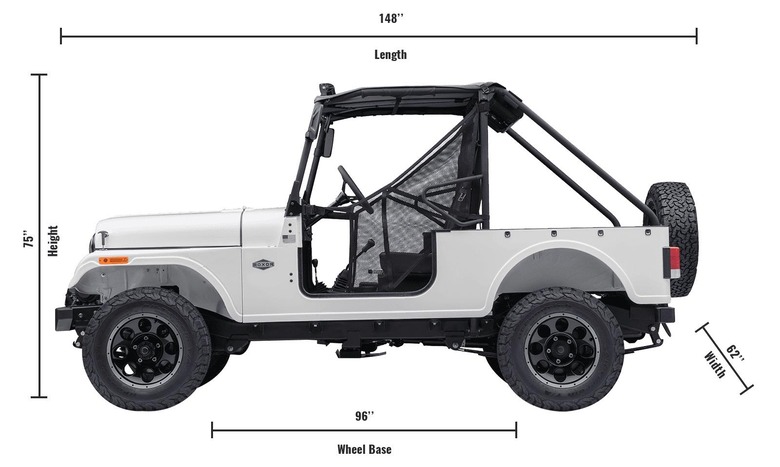 That's not bad at all when you consider that the whole thing weighs just over 3,000 pounds. It also gives the Roxor some serious towing potential. The two-seater has a 349 pound rear payload capacity, and can tow up to 3,490 pounds. Max speed is capped at 45 mph, or 15 mph when towing.
It's not the only practical feature that should appeal. There's an 8,000 sound winch on the front, for example, while the chunky 16-inch wheels are shod on BF Goodrich KO2 radial off-road tires. Double-acting hydraulic shocks and a combination of rigid leaf spring front suspension and leaf spring rear suspension should keep the 96-inch wheel base reasonable stable, and there are 9-inch disc brakes up front, and 11-inch drums at the back.
Mahindra is counting on strong demand for customization in the powersports market to give the Roxor a good start. Although it'll have a variety of colors and cabin trims on the books, the automaker will also be receptive to custom orders, ranging from exterior wraps to different cabin treatments. Over 900 paint finishes are expected to be on offer, all applied in-house by Mahindra.
If all goes to plan, Mahindra is clearly eyeing the road-going car market. That, though, is still some way out.
MORE Mahindra Roxor