This Is The 2017 Nissan GT-R: Power And Luxury Boosted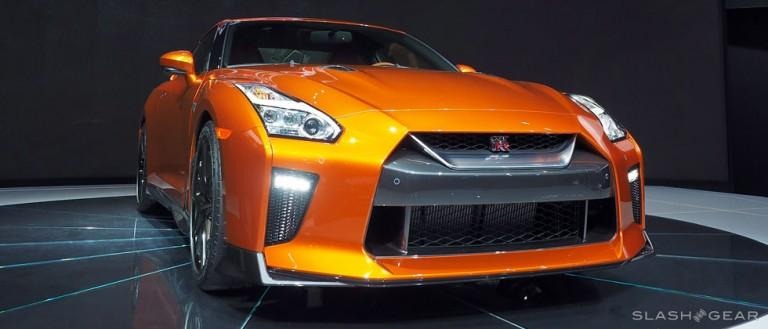 Nissan's GT-R is undeniably iconic, but it's also getting long in the tooth, and so Godzilla has gone in for a revamp. It's no minor surgery, either, with the 2017 Nissan GT-R getting a more aggressive look outside, more power from the engine, and more luxury inside, as the company readies itself for big competition from the Lexus LC 500, Acura NSX, and others.
Up front, Nissan's family "V-motion" grille has been brought to play on the GT-R's snout, bigger for improved airflow into the engine, and with a matte chrome finish and new mesh. The hood, too, is different, with new character lines, but it's also more stable during high-speed driving thanks to newly added reinforcement.
Underneath, the front spoiler has been tweaked, and the front bumpers now have finishers right under the headlamps, contributing to downforce. At the sides, the sills have been flared out for more aggressive airflow direction.
That focus on airflow continues at the rear, with the four-ring taillights now surrounded by new bodywork, and new side air vents alongside the four tailpipes. Nissan has done some aesthetic fettling, too, to highlight the beltline between the top and the bottom halves of the car at the back, giving it a more purposeful stance.
Overall, Nissan claims, the 2017 GT-R is not only better looking and still has a 0.26 drag coefficient but, most importantly, more stable than its predecessor at high speeds.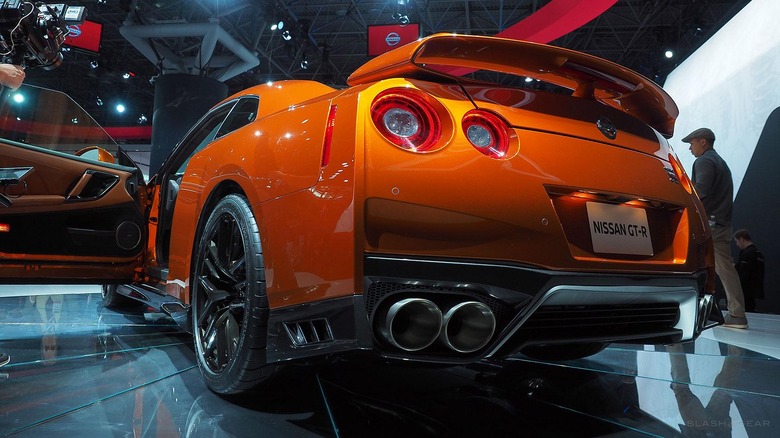 That's important, since the engine is more powerful now, too. It's still the same 3.8-liter V6 24-valve monster with twin-turbos, and each is still hand-built by a single Nissan technician, but it's up 20 HP and 4 lb-ft. of torque over the outgoing GT-R.
If you've not been keeping count, that means a hefty 565 horsepower and 467 lb-ft. of torque.
To do that, Nissan played with the ignition timing control of the cylinders and cranked up the turbocharger boost. It should also mean a slightly different driving experience, with better acceleration when at 3,200 rpm and above.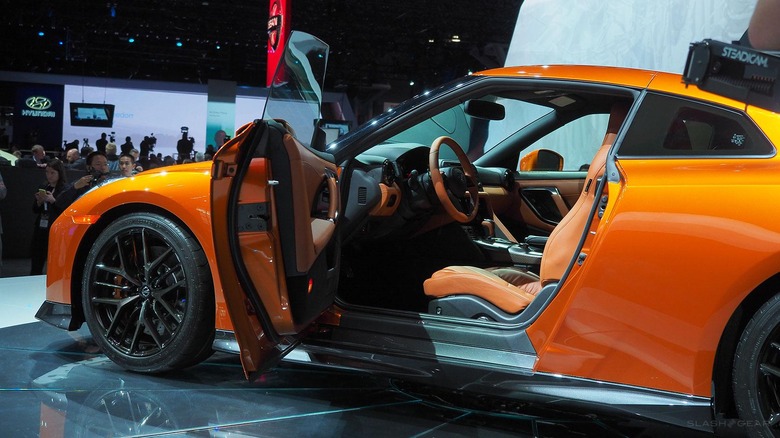 The 6-speed dual-clutch transmission has been kept, though now promises smoother shifts and less noise, while the titanium exhaust system and Active Sound Enhancement are new.
Body stiffness is up, and the suspension is new, with fresh 20-inch, 15-spoke forged aluminum wheels for better on-road feel and grip. Nissan says keen drivers should notice that particularly in swifter lateral transitions as well as in higher overall cornering speeds.
Inside, the dash has been completely replaced, with a single piece of Nappa leather stretched across the entire "horizontal flow" form. There's a technical reason, too, with Nissan using thinner cushioning to keep weight down, while the front seats are also lighter while offering better side support.
The switch-sprayed controls of before have been pared back, from 27 down to 11, and there's an 8-inch touchscreen embedded in the carbon fiber, up an inch over the outgoing model. Nissan has mounted the shift paddles on the wheel itself, and there are new ventilator controls which should feel more premium
In short, it's about as big a refresh as you could hope for, barring a whole new GT-R. Nissan says it'll go on sale this summer, with pricing for the 2017 car yet to be confirmed.
[gallerybanner p="432999"]