This is how much Samsung's Galaxy Books will cost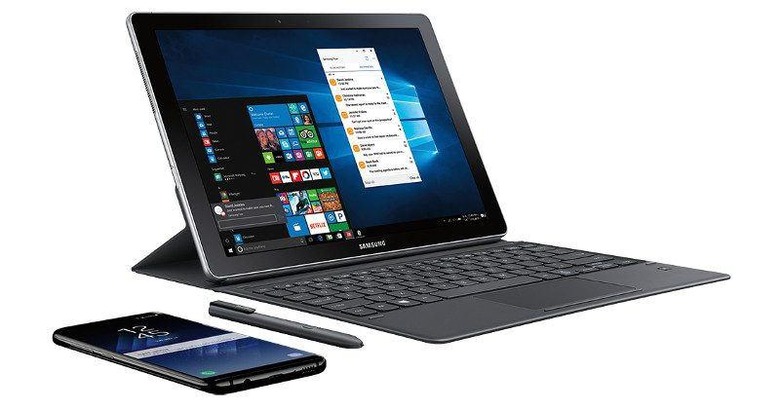 While Microsoft may have a new Surface Pro 5 coming next month, leaks paint a rather disappointing picture of a slightly refreshed 2-in-1. That gives its partners and competitors plenty of opportunities to grab the market for themselves. That is, if the price is right. Judging by the price and availability details that Samsung just put out, its new Galaxy Book 2-in-1 Windows 10 tablets might indeed just offer the market a stop-gap solution until the next Microsoft Surface innovation. If and when that happens.
Truth be told, the Samsung has its eyes on the iPad Pro more than the Surface Pro when it launched the Galaxy Book duo. Truth be told, however, they resemble more the Microsoft Surface and Surface Pro in terms of duality.
The smaller 10.6-inch Galaxy Book, for example, only gets a 7th gen Intel Core m3 processor and a Full HD screen. RAM never goes higher than 4 GB, though there is at least a choice of 64 or 128 GB of unfortunately slow eMMC storage. On the other hand, the 12-inch model gets a 7th gen Intel Core i5, with 4 or 8 GB of RAM, and 128 or 256 of SSD storage. The screen is also upgraded to a 2K 2160x1440 AMOLED type.
Both are designed to be lightweight and thin, though the larger model is, ironically, thinner than the 10.6-inch version. Like both the Surface and the iPad Pro devices, the Galaxy Book has keyboard covers and stylus accessories. Unlike those other two, however, both come in the package.
That package will cost $629.99 for the Galaxy Book 10.6-inch and $1,129.99 for the Galaxy Book 12-inch. There's also an LTE model for the Galaxy Book 12 available from Verizon that will go for $1,299.99. While those numbers might be higher than the current price tags for the Surface Pro 4, the Galaxy Book does sport a more current processor and already includes both the Wacom-powered stylus and the keyboard cover. Availability from Samsung.com, Best Buy, and Verizon start on April 21st, with a general launch set for May 21.
SOURCE: Samsung