What appears to be iPhone 8 backsides have appeared in a Foxconn box on a shipping floor this week, shared all the way from China. Coming from a character who calls himself "Foxconn Little Brother", this user is essentially an anonymous contributor to the message board called Feng. This is one of a number of photos leaked over the weekend of what are said to be massive amounts of parts set to be shipped out of China to Apple outlets around the world.
In these photos, it seems as though a new iPhone – perhaps the iPhone 8, or whatever Apple ends up calling it – has been ramped up to mass shipments. Photos from Feng and Geskin (generally known as a 3D mock-up creator) create a picture of an iPhone that might not be as pleasing to the leak-seekers as previous models were. Cross your fingers for less fingerprint scanner at the back and more finesse up front.

SEE: iPhone 8 and Galaxy Note 8 aren't playing the same game
What's likely gone on here is a set of crossed wires. Instead of showing an actual iPhone, these pictures likely show a device meant for case-makers. If that's true, the top and bottom of the front side aren't necessarily what'll appear in a final hardware release.
If previous hardware mock-ups and leaks are to be believed, these devices would account for software-placed lines instead of hardware. The display would extend below and above what's presented here, and case makers would use these pieces of hardware for marking lines for aesthetics – case aesthetics.
The most likely scenario is that these are all fakes. Either the person mocking them all up faked the lot, or they've been ordered up by dastardly resellers who make devices look like iPhones and offer one guarantee to buyers. "If you're not entirely satisfied with this so-called iPhone, just come back tomorrow and I won't be here!"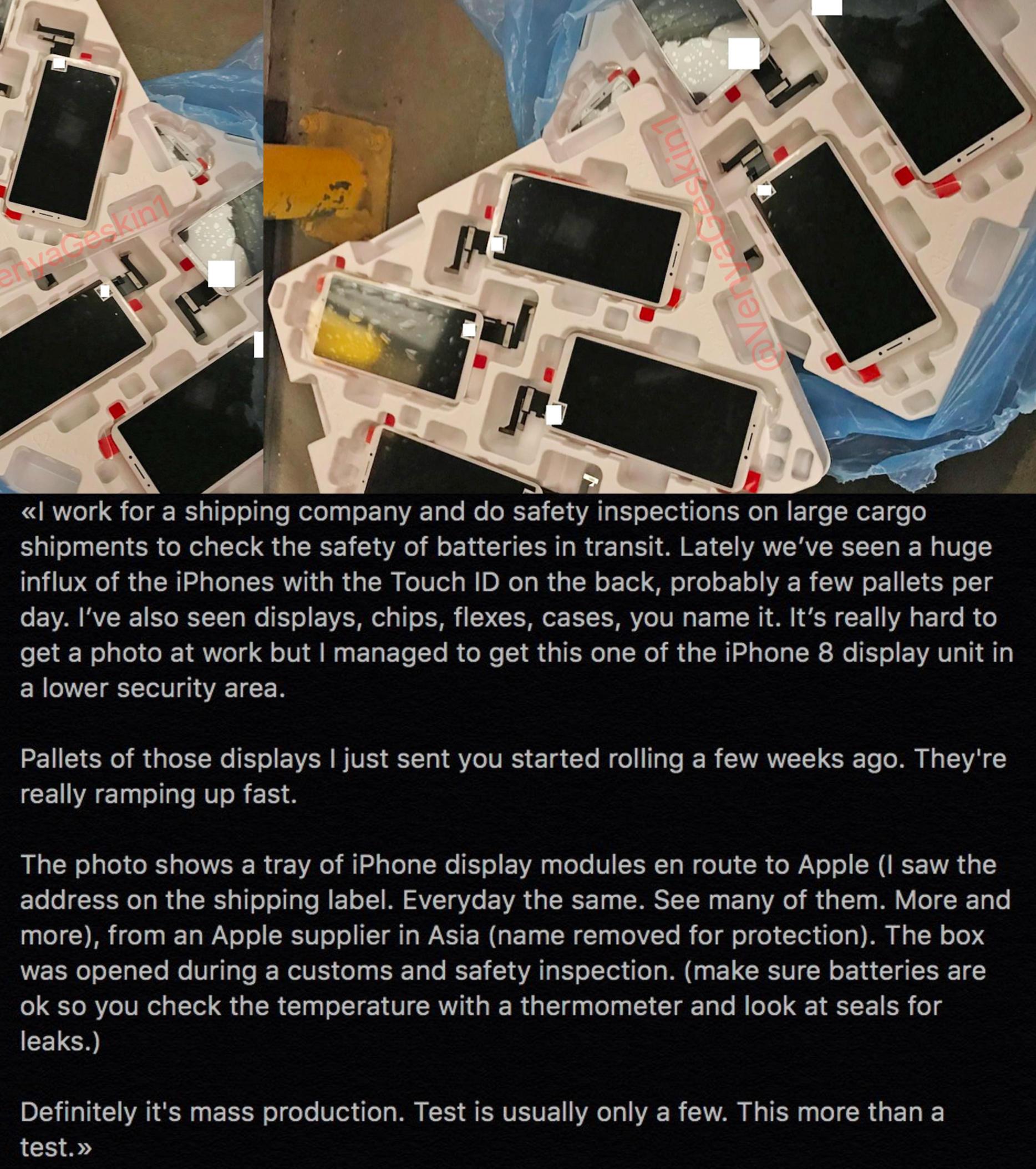 In short – don't take these photos at face value. There's far too much distance between here and reality for these images to have enough clout to make any bets on. Instead, it's better to put more faith in the images that show a larger display and a slightly more simple backside.
Have a peek at the timeline below to track the ins and outs of what the next iPhone will ACTUALLY look like. It's gonna be at least a LITTLE more handsome than this. In other news, I'm considering a series of articles in which I place odd objects in boxes with Foxconn on the box's side. It'll be called "look what Foxconn is shipping today!" It'll be amazing.