This Google hat is an all-in-one camera broadcasting system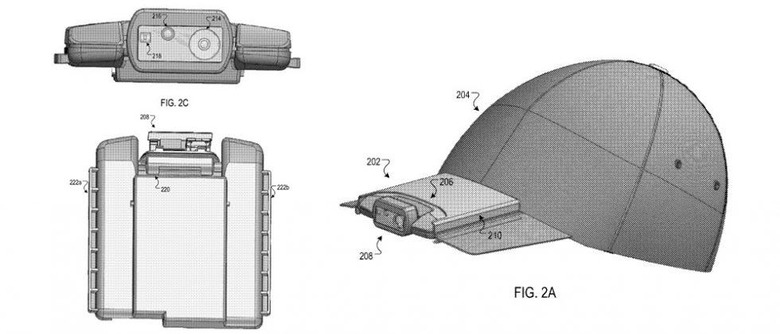 The latest patent oddity comes from Google, which has detailed a wearable baseball hat/camera/broadcasting system that would, in theory at least, make it easy to share your world with the rest of the world. The camera system involves a battery-toting baseball cap with a camera and microphone clipped onto the brim, a bone conduction speaker tucked away somewhere near the wearer's skull, and Bluetooth connectivity for pairing with a smartphone.
Imagine being out and about, perhaps at an event or a family gathering. With this hat camera system, you could live stream content from the event — as recorded from the perspective of your forehead — via the wearable and your smartphone. You could also use the phone with the camera to record video or take photos, save, and share them with others.
Of course, the patent raises a big and immediate question, and that's whether Google actually envisions an ordinary baseball cap being the wearable contraption upon which the gizmos are attached. While baseball caps aren't exactly unfamiliar, they're also not something many individuals are inclined to wear.
As with all patents, Google may never actually make a product based on these descriptions. Even if it doesn't, though, this could indicate that Google's paying attention to the growing market for wearable cameras, one arguably being dominated by Snapchat Spectacles at the moment.
SOURCE: USPTO