This Ferrari book costs $30k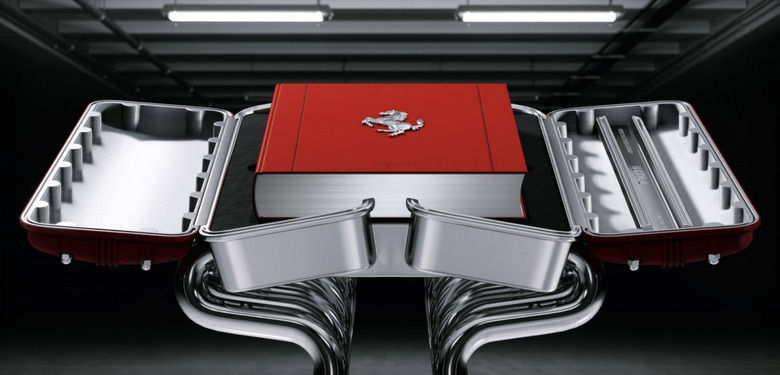 This is not a car, it is a Ferrari book about cars – and it costs thirty THOUSAND dollars. The reason this book costs such an extreme amount of money is its intended audience – people who have massive amounts of cash, company heads, and the leaders of other car companies. The standard version of the book is an edition of 1,947, of which 250 include a specially designed bookstand (that's the version that'll cost $30k). All copies come with an aluminum display case designed by Marc Newson.
There's a point at which well-made books become a bit difficult to afford. Artist imprints can be great to own – especially if you're not about to purchase a piece of the artists work personally. You're not a museum, after all. Those works of art belong in a MUSEUM! But not this book.
The standard version of this book costs just $6,000 USD. That's downright affordable, right? Also absolute madness. But you get what you pay for, right? Oh god, right?
"Leather cover, 12.7 x 17 in., 514 pages; enclosed in an aluminum display case designed by Marc Newson, with a sculptural chromed-steel bookstand, 21.6 x 22.4 x 43.3 in. — ISBN 978-3-8365-6579-0"
This book is not for people who cannot afford Ferrari cars. It is for people who own probably more than one Ferrari car. This book is for people who wear Ferrari red baseball caps and have a pair of Ferrari shoes for every day of the week. This is a book for people who have more money than God.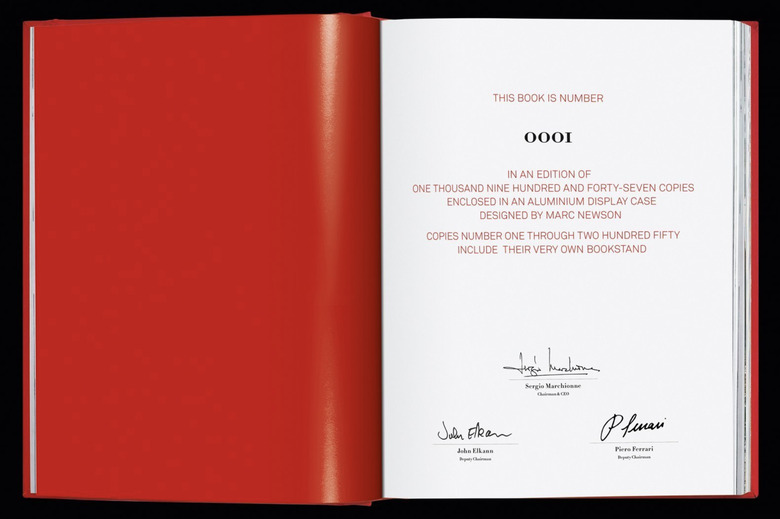 Each of the "Art Edition" of this book is signed by Sergio Marchionne, John Elkann, and Piero Ferrari. The Art Edition is the first 250 copies, the same set that comes with a stand – a sculptural piece of work that looks a whole lot like a 12-cylinder engine made in chromed steel.
Inside this book is "Unprecedented access to the Ferrari archives, and those of private collectors, including hundreds of unseen photographs, drawings, and sketches." Also inside are "Original documents of famed Ferrari drivers" as well as "Never-before-seen appendix gathering all of Ferrari's victories since 1947."
This book in both editions will be made available in October of 2018. At that time the book will be available at Taschen online.