This electric all-terrain bike wants to go to the beach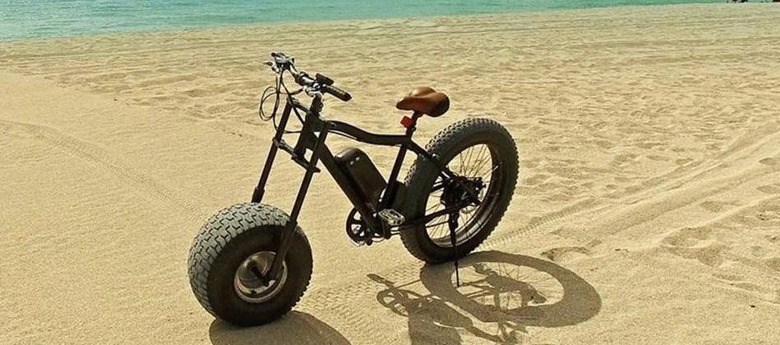 The XTERRAIN500 is a new electric bike that boasts of being able to easily glide over soft beach sand, thanks to its short, 10-inch wide front tire. With the addition of a 500-watt motor, this "all-terrain bike" will also reduce the effort riders need while pedaling on terrain including snow, mud, grass, and gravel. The bike's makers point out that most fat tire bicycles available today only come with 4-inch wide tires, which allow for riding on packed sand, but aren't enough for the really soft terrain at the beach.
While the XTERRAIN500's front tire is ATV-inspired, the rear tire is a more standard, 4.6 inches wide. But the addition of the electric motor helps with propulsion, letting riders pedal with the normal amount of effort they'd use while riding on pavement. A 48 volt battery powers the motor, and will run for a distance of 20 miles on a single charge, with a top speed of 20mph.
The extra wide front tire is meant to offer stability on soft terrain like sand and snow, but for those times when riders want to return to something like dirt or pavement, the XTERRAIN500 also comes with a second 4.6-inch tire to swap out with. To accommodate the different tire sizes in the front, the bike lets users adjust the triple tree fork plate to bring the fork tubes either closer together or wider apart. Other features include front wheel and seat suspension for absorbing uneven terrain.
Xterrain says they will be launching a crowdfunding campaign on Indiegogo soon, but they expect the bikes to be priced at $1,600, which includes the electric motor and extra tire. Prospective buyers can sign up on their website to be notified when orders can be placed.
SOURCE Xterrain