This Chinese solar plant looks like a giant cartoon panda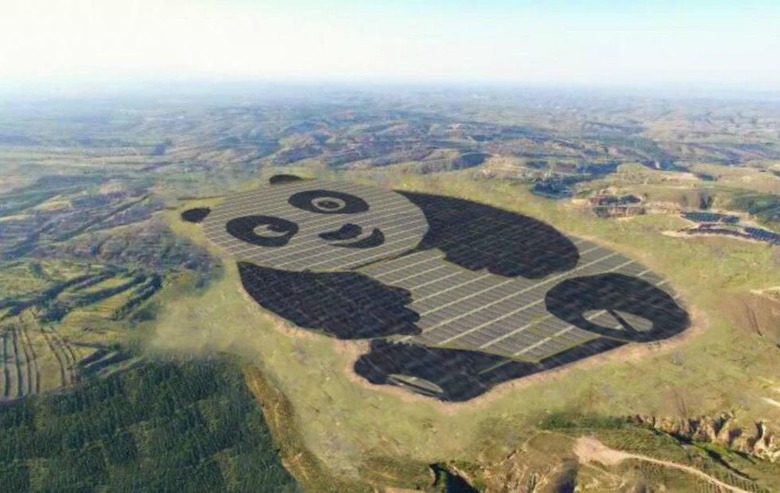 Vast solar plants are becoming increasingly common around the world, but most of them aren't anything you'd go out of your way to see. The big exception is a new solar plant in China that was built in the shape of a giant cartoon panda. Anyone flying above the region in Datong, China, will be greeted with the sight of a happy panda smiling up at the sky; soon enough a second solar plant in the shape of another panda will be joining it.
This solar panda is the byproduct of an agreement Panda Green Energy's biggest shareholder, China Merchants New Energy Group (CMNE), and the United Nations Development Program (UNDP) signed late last summer. The panda shown above is a 50MW solar array that just went live earlier this week, sending clean energy to the grid in the northwestern China province.
It was always part of the plan to build the solar plant in the shape of a panda, the nation's 'treasure' and, more importantly, something that is likely to catch the attention of Chinese youth. The hope is to raise sustainability awareness among the younger generations in China, a necessary part of the global effort to gravitate toward cleaner, less harmful energy sources.
This panda solar plant is part of a larger effort that anticipates removing 60,000 or so tons of carbon dioxide emissions from the annual output. The project includes the creation of a youth activity center that aims to teach kids about solar energy and why it is beneficial to the environment. Overall, the deal for the plant's installation was valued at nearly $55 million.
SOURCE: PV Magazine