This ASUS gaming PC literally transforms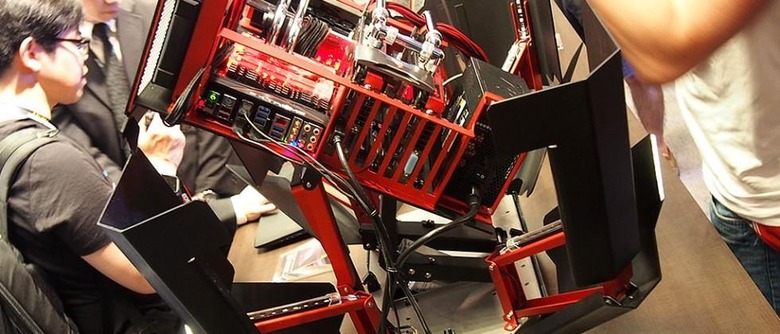 What you're about to see will forever have you thinking that any other gaming PC tower is nothing else than boring. At Computex, currently taking place in Taiwan, ASUS is showing off this incredible PC that opens and changes shape at the flip of a switch. Featuring pistons and hinges galore, the machine's case separates and gives way for the internal components to rise and tilt forward, allowing users to swap parts or make other adjustments.
The computer is actually the result of a collaboration between ASUS's Republic of Gamers (ROG) brand, and case manufacturer In Win. The red and black color scheme is a requirement for hardware makers looking to carry the ROG branding, but this tower goes well beyond lasers and LEDs. Check it out in motion below:
Another press of a button will have the PC convert from its open position to a slightly more compact size, but it's not clear if the machine can continue to operate while going through transformations. You can get a more detailed look at the insides in the following images.
By some means, ASUS says they are going to start producing and selling the tower before the end of the year, but nothing has been said of a price. One would think it's going to be very high.
VIA Engadget