This Apple II Watch is a 1970s-inspired wearable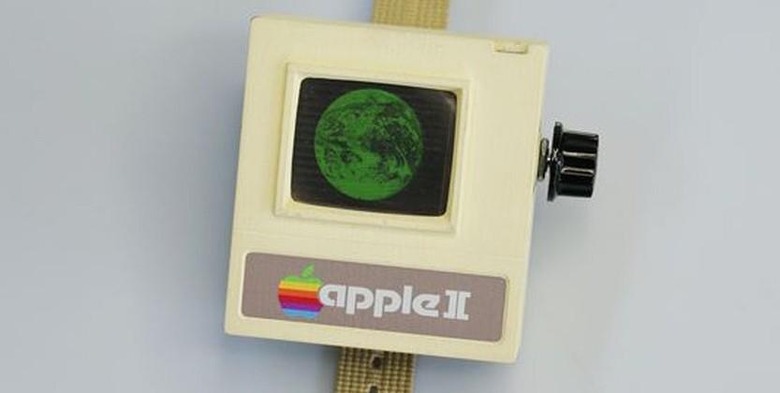 Miss out on pre-ordering the Apple Watch this week? Or did you, but can't expect your new wearable to arrive until sometime in June? Cure those Cupertino smartwatch blues with the Apple II Watch, and feel like you stepped out of an alternate dimension 1970s. That's right, you can actually wrap one of these around your wrist, assuming you're a DIY tech wizard with a lot of time on your hands. This custom creation comes from Instructables user Aleator777, and eschews a "digital crown" for a mini floppy disk drive!
Actually, that's not true; there is a retro-styled digital crown in the form of a traditional rotating knob. Other "advancements" include a 72 MHz" MCU and 1.8-inch TFT LCD screen, all inside a 3D-printed case designed to resemble the Apple II. Aleator777 says it took him the better part of a month to build, and although most of the functions are a parody of the real Apple Watch, the Apple II Watch does display the real time and date.
The UI even has a "boot-up sequence," displaying brackets on the small screen before a sequence of beeps and boops are emitted from a 2 watt speaker via .mp3 files. There's also a rechargeable battery inside, so rest-assured you'll be able to use the Apple II Watch for years to come.
Incredibly, Aleator777 is sharing the full set of step-by-step instructions, complete with the files and software needed, so anyone can start building their own Apple II Watch. Just don't forget the mini floppies!
VIA TechCrunch
SOURCE Instructables