This App Could Make You A Vine Or Instagram All-Star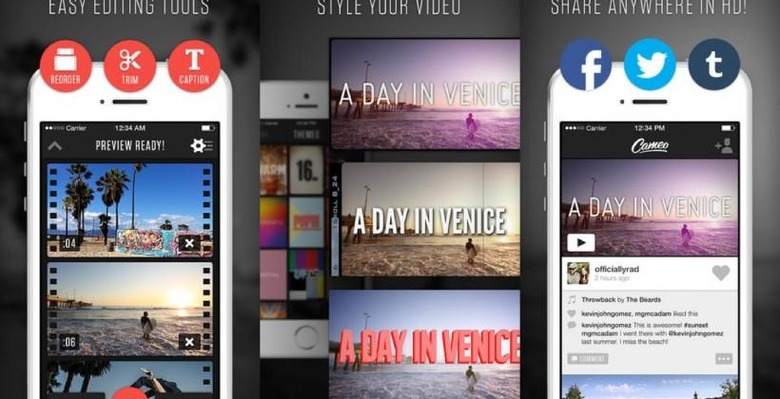 Short videos are quickly becoming a favorite new medium for interaction, with the likes of Vine and Instagram making sure we get our dose. From the funny quip to a "long" moment capture, the micro-video movement is on the rise. Rather than take your videos to the desktop, this iOS app could make you a Vine all-star in no time.
Cameo, which is currently available in the App Store for free, takes dead aim at your burgeoning Vine career. Taken in six-second takes (see?!), Cameo also offers users the ability to string scenes together. You can, in essence, make a video as long as you'd like, but the clear angle is Vine and Instagram.
When it comes to editing, Cameo is dead simple. All you need to do is drag-and-drop to rearrange the scenes, or tap to delete them — Cameo puts it all together, leaving you to point-and-shoot and not worry about editing. There are several themes to choose from, too — and even soundtracks. If you need to edit a specific clip, just click on the timer shown on the bottom left, and it brings up editing options specific to that take. You can trim it, give it a caption, and even turn the audio off.
Cameo is as much standalone social layer as it is video capturing platform, but you'll probably want to stick to the services you already use. It's also free, which is handy, but there's a good reason for that. Cameo was made by Vimeo, who have their own service that does fine in its own right.
Though the videos are hosted online, it's not through Vimeo directly — Cameo has their own hosting site, which is (of course) owned by Vimeo. Your videos also can't be uploaded to YouTube from the app, further hitting home that Cameo is a Vimeo service. Facebook, Twitter, Vine, Email — and of course Vimeo — are all options, here.
Cameo is easy to use, and fun for making some pretty great videos easily. If you can tolerate six-second bursts, you'll love Cameo. If you want to take a longer-form video, this one won't work. If you want to be a YouTube star, this one will give you fits. The majority of Vine users will find favor here, though, and for that it's a winner.