Thinksound On1 Monitor Series Headphones Review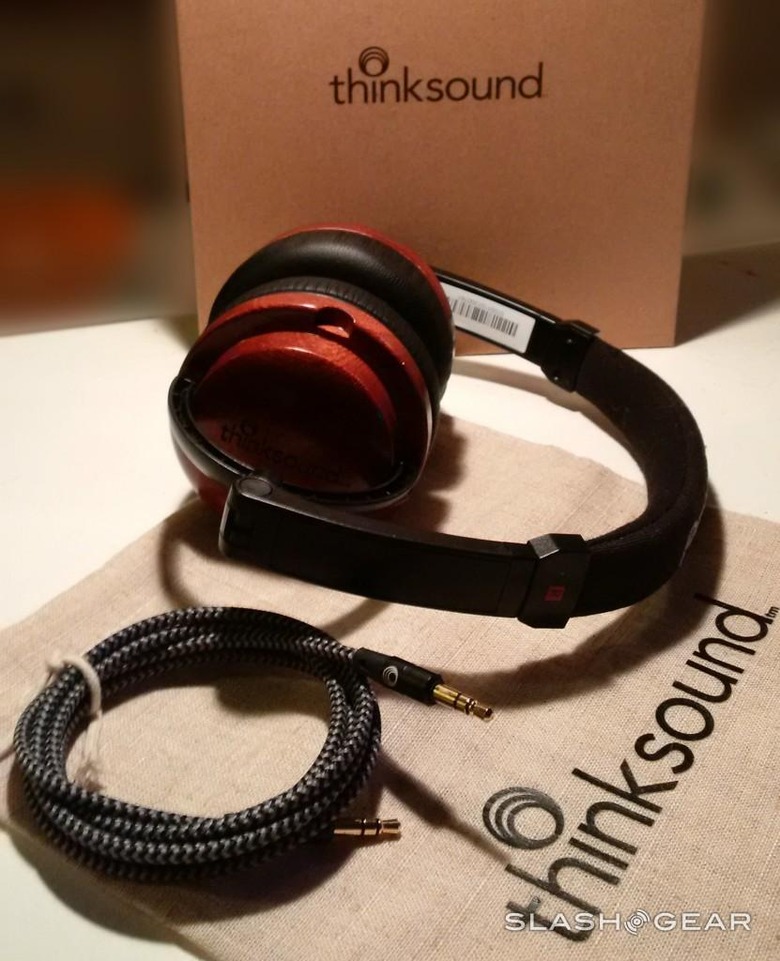 Thinksound has launched its first pair of "big" headphones, the wood-centric On1 supra-aural monitors with 40mm drivers and detachable audio cables. The company has enjoyed widespread success with its various earbuds, and as such the On1 have both company history and buyer expectations to live up to. This product has been a long time coming, and is now available from Thinksound for $299.99 USD. We recently got our hands on a pair of these cans, and we've put them through the acoustical wringer to see if they hold up for those particular about their music. Read our full SlashGear review to see how they fared.
Hardware
The headphones, as you can see from the images, have ear cups made from "natural wood housing," something Thinksound says is hand-crafted and designed to aid in accurate music reproduction. The headband portion of the On1 is metal covered with a somewhat thick fabric cover, providing enough cushion for comfort but not enough to be excessive. Between the ear cups and the headband are a couple of plastic hinges that allow for both rotation and inward folding.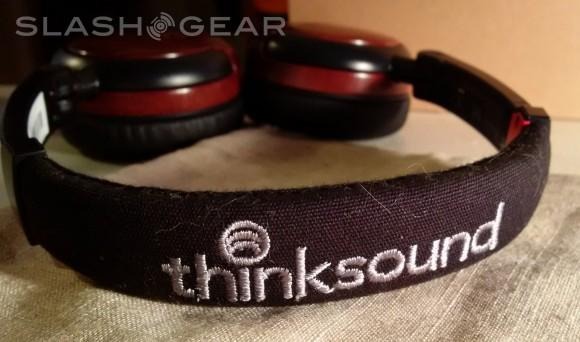 The audio cables — of which there are two, both measuring in at 4.5-feet long and detachable — are also covered with fabric and reinforced with Kevlar. They're being hailed as tangle-resistant, and after a bit of playing with them, that statement holds up. One of the cables have an inline music control for when you're using the headphones with a smartphone. The inline control is thin and entirely unobtrusive, however, unlike some comparable products.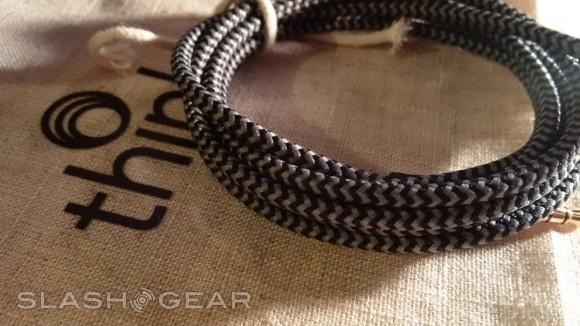 The design is said to be sweat-resistant for use at the gym, though given the nature of the headphone it is hard to image using them while on the hack-squat machine or treadmill. As far as hard specifications go, the On1 supra-aural monitors feature two 40mm dynamic drivers and have a 50 ohms impedance. The frequency response is a wide 5Hz to 22KHz, and Thinksound promises that its "signature acoustics" are implemented. The headphone are light at 10 grams, and include a two-year limited warranty.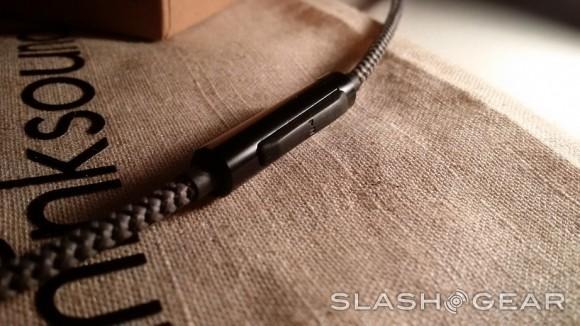 Packaging
Packaging can swing either way with products — either be the throw-away something or other you hardly glance at while tearing into it for your coveted gadget, or it can be an immediate presentation that seems to present your item to you with bits of silent fan fare. The latter is the case for Thinksound's On1 headphones, with the packaging being both compact and thoughtful, portending to the quiet sophistication projected by a pair of polished wood headphones.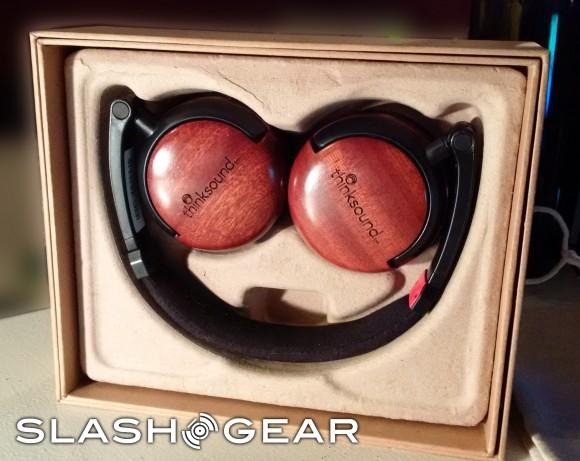 You notice the care that went into the packaging as soon as you open the box. There's a traditional product sleeve on the outside that looks like it could belong on any pair of headphones, but after sliding it off, you're presented with a light brown box adorned with a small cream-colored cord strap at the top and simple black ink lettering. The top of the box slides free of the bottom, and can then be reversed and slid underneath the package, with no element having a poor or loose fit.
A stylistically-rough straw-colored cotton carrying pouch is folded on top of the headphones, and inside are the two detachable audio cables and a small limited warranty insert. Removing the pouch reveals the On1 headphones folded neatly into a molded cardboard insert. Overall, the packaging is something you'll want to hang on to and that can be easily reused to store the headphones for safe keeping.
Sound Quality
When it comes to evaluating the audio quality of headphones, it can be difficult to present the results to a third-party who hasn't actually tested the cans with their own ears — there aren't any benchmarks, for example, to easily compare with competing products. Still, there are some standardized ways to measure how a pair of headphones perform, and as such we've taken the time to run through a variety of them, carefully measuring the results for each one and comparing it to how a pair of headphone should perform.
The first test concerns the bass, which is artificially boosted in some headphones — in some cases, even so-called high-end and expensive headphones — to simulate a better sound quality, sometimes due to the demands of its core customer base and sometimes because the average non-audiophile often mistakes thumping excessive bass with high quality output. If you're the type who expects to drown in bass regardless of what you're listening to, you'll be disappointed, as the On1 monitors are very even-handed. This isn't a bad thing, mind you. What it means is that the audio you're getting is "pure," so to speak — if you're listening to something that is bass-heavy, you'll have no shortage of thumping, but if you're listening to some Vivaldi, you're not going to be frustrated at the muddle effect overblown bass would have on your soundtracks.
To test the bass, we downloaded a file that ran the gamut across bass frequencies and cranked it up to pretty jarring levels. With many headphones out there, such a test causes one of two issues: a sort of troublesome buzz that you can't quite ignore or outright rattling, neither of which resulted from the On1 headphones. The results were impressive, and rolled over when listening to songs with a variety of bass components, among them being Paul Revere by the Beastie Boys, some Basshunter and Bassnectar, and even a little Boom Boom Pow by the Black Eyed Peas to wind it down. The results were consistent and impressive, if not a bit brain-liquefying after a while.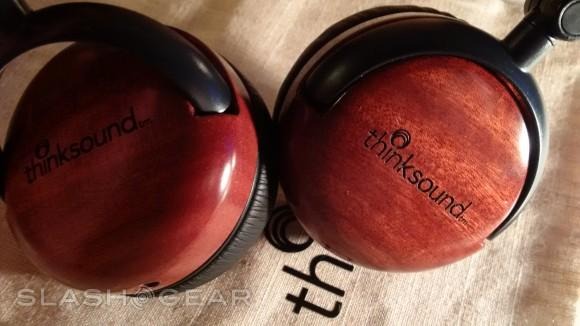 The On1 headphones held their own through some other tests, with a driver matching test producing a smooth, central sound, and playback of various binaural audio files being a pleasure to listen to. The sound quality was wonderful all around, and while it is fair to say that the headphones are very neutral, that doesn't quite do them justice because of the sheer adaptability they seem to possess for different types of music. As someone with an eclectic taste in music, the On1 headphones were able to meet the demands of all sorts of music from my library, driving the bass deep when necessary, holding a solid mid-range, and even making some recording snafus starkly apparent.
Comfort
When it comes to the On1's comfort level, I need to give a disclaimer — it is a rare pair of on-ear headphones that don't cause me some level of discomfort, something perhaps due to a particularly rigid bit of cartilage. As such, while I did not find the On1 headphones uncomfortable in the grander scheme of things, the outer edges of my ears did grow sore enough after a couple hours of listening that I had to adjust them several times before finding an angle/compression profile (angled outward so most of the contact was forward near my temples) that worked best for me. If you're someone who often finds on-ear headphones uncomfortable, don't expect the On1's to be any different.
That said, as someone who owns/has owned more than a few pairs of on-ear headphones, the On1's do stand out amongst many of them. There's very little pressure, yet the headphones sit well and they stay in place once you've got them where you want them, which contributes to the sound isolation element of the product. The ear pads are made of Memory Foam, and are both somewhat firm and very soft to the touch — the feeling of the pads, in terms of softness, is very comparable to a pair of Sony ZX series headphones' pads.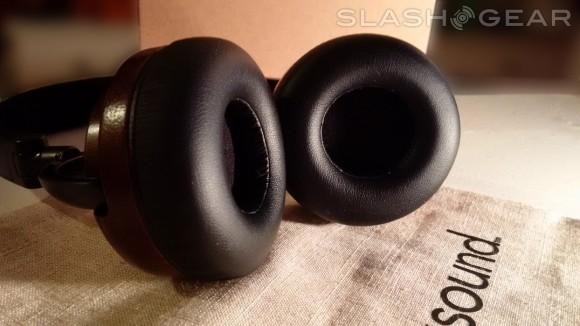 Wrap-up
Thinksound is a small company that aspires to produce big audio, and anyone who has owned the company's ms01, rain, or various ts01/ts02 earbuds, the On1 represents a sort of nail-biting milestone for the company: larger headphones. Fortunately for newcomers and customer faithfuls alike, the On1 lives up to the foundation the company has created with its prior offerings, and does so with consideration of its product on all fronts, from packing to quality to product design. The On1 are, first and foremost, beautifully constructed, with a look that is grown up and self-assured and an audio quality to match. If you've got a few bills to spare and are in the market for a pair of cans that will work regardless of your music tastes, the On1's are an excellent choice.