ThinkPad X300 By Lenovo Reviewed By The Man - Walt Mossberg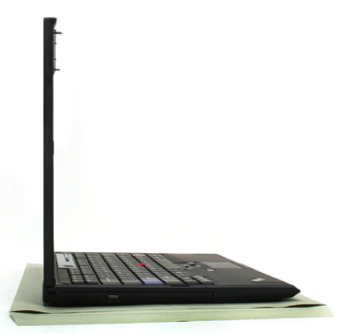 Overall Mr. Mossberg seems quite pleased with the X300 and more or less says that even for the steep price it may very well be worth it. Really, he only has a slight indifference with the battery life, but his only major complaint when compairing it to the MacBook Air is that he says the Mac OS is far better than Windows.
I'll have to agree with him on that, but alas here I am, with the only Mac I have being one that I only have for review for a couple weeks. Regardless, Walt also was able to unveil some more info on the different configurations the X300 will be available in.
The bottom of the line has no DVD drive, and only a half sized battery and sells for just under $2500. Then there is the version Walt expects to sell the most, at $3000 it has a full size battery and a DVD drive and lasts, in use, 3 hours and 5 minutes, which isn't bad, but is bested by the cheaper MacBook Air. There is apparently a configuration that gives you one full sized battery, and then swaps out the DVD drive in favor of another half sized battery which could get you as much as 6.5 hours of battery life depending on what you are doing.
The X300 also has Wireless USB, WiMAX, WWAN access, GPS, and a few other things optional or standard. Then there is the plethora of ports such as the 3 USB ports, integrated Ethernet port, a removable battery, and the option for a built in DVD drive, all things the MacBook Air has standard. A fairly major downside is the mandatory SSD drive that stores a paltry 64GB worth of data and is largely the cause for the high cost.
On other thing that was mentioned is that only a severely stripped down model was able to slip in under the 3lb. mark necessary to be considered and ultra-portable. More or less, if you are a Windows user already, and money isn't an issue, this is the notebook for you.
[via ptech.allthingsd]