ThinkGeek Star Wars Lightsaber Candlestick Lands In December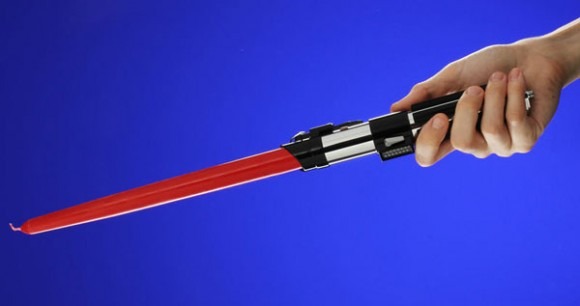 There are more Star Wars branded products out there than you can shake a stick at making many fans of the franchise angry that George Lucas pimps out our childhood memories to just about anyone. The place that makes some of the coolest licensed gear is ThinkGeek and I have yet to be disappointed by stuff that it offers. ThinkGeek has a new Star Wars item that is called the Star Wars Lightsaber Candlestick.
The candlestick base is made from solid metal and is a perfect reproduction of Darth Vader's lightsaber. The base comes with three no drip red candle sticks to put in it. This would be the perfect geek touch for your Christmas party since the candlestick is listed as shipping on December 5. Once you burn through the included red candles, you can use any tapered base candle for a replacement.
This is an officially licensed collectible. The hilt is 8.5-inches long and the red candle blade is 10-inches long. You can unscrew the base that stands the candlestick up when you want to play with the weapon. Each of the candlesticks will sell for $39.99. Check out the video below to see the thing in action.