ThinkGeek Iris 9000 Siri accessory is HAL's nice sister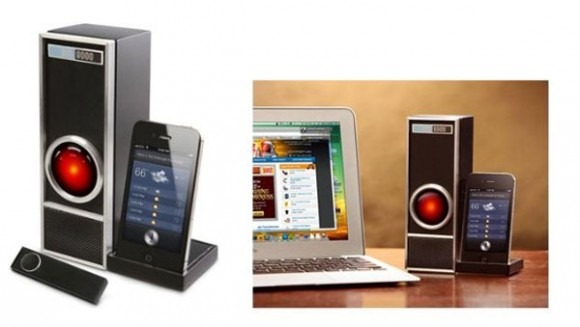 If you are having fun with Siri on your iPhone 4S ThinkGeek is teasing with a new accessory that won't hit until April 18 of 2012 if all goes well. The device is called the Iris 9000 voice control module for iPhone and Siri. It looks like that glowing evil eye of HAL. The device will let you control Siri from across the room and is activated with a wireless remote.
When you press the wireless remote Siri will chime and you can tell the phone what you want to do. The mic is supposed to be sensitive enough to work from across the room. The attached dock and mic will also allow you to make hands free phone calls as well. Iris has an embedded speaker so you can hear your calls and voice commands.
The red glowing eye flickers with the voice of Iris 9000 as it speaks. It connects to the wall with an included power adapter and will only work with the iPhone 4S. The device is a ThinkGeek exclusive. You can sign up for email reminders on Iris 9000 and it will sell for $59.99 when it launches.