ThinkGeek iCade 8-Bitty revealed and detailed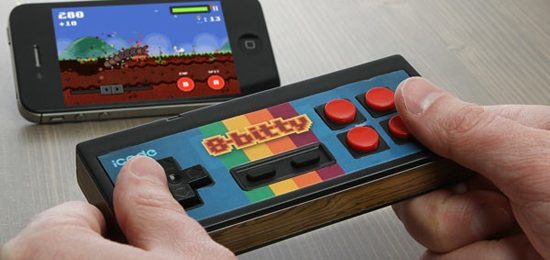 For those of you with a love for the original controller that swept the world with its rectangular simplicity in the original Nintendo Entertainment System, 8-bitty has been released for your mobile gaming enjoyment. This little controller has four buttons instead of the two you've seen in the old controller and has no affiliation with that controller other than its obvious inspirational bits. You'll get blue, red, orange, yellow, and green across the front with the same red buttons you've loved for so very long, and no cords!
This controller will connect to your mobile device, by it your iPod Touch, your Android phone you iPad, or what-have-you, with Bluetooth. This is an extension of the already popular iCade line created by ThinkGeek, each new bit released by the team creating a cross-over gaming experience that shouldn't be missed! As ThinkGeek GeekLabs's oan Ty Liotta notes,
"We're excited to extend on the success of the original iCADE. And with millions of iOS and Android devices in circulation it only makes sense to widen the field and bring the fun of iCADE to every possible device." – Liotta
This controller is battery powered and has eight fully fucntional buttons, controlling everything from the original Pac Man to Super Mega Worm to more modern games as well. Developers can get in on documentation for the controller here and start making their games ready for the oncoming of this magical device in full force soon! Games like Box Cat, Muffin Knight, Plum Crazy, and more are already ready to work with the controller before it's released! This controller has been revealed at the 2012 Toy Fair in New York City and will be available for purchase later this year for $24.99 – we'll be sure to let you know how fabulous it truly is!