ThinkGeek 8-bit Dynamic Life Shirt for geeks in love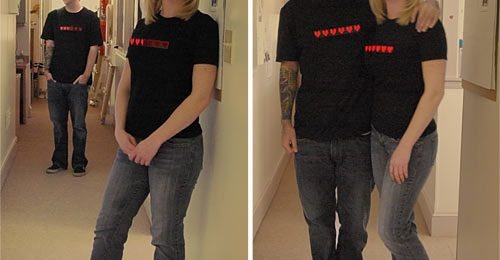 ThinkGeek is a Mecca for all things geeky and if you are a geek who happens to have significant other a cool shirt called the 8-bit Dynamic Life Shirt can now be had. Any gamer geek will recognize the heart counter right away as a staple of life from video games of all sorts.
These two shirts each have their own heart counter and when they get further apart the number of hearts that are lit gets smaller. When the shirts are close together and in hugging distance all six of the hearts glow.
You need two of the shirts for the heart scale magic to work and they are available for men and women in multiple sizes. The shirts range from $17.99 to $24.99 and are in stick right now.