ThinkGeek Releases JOYSTICK-IT For iPhone, iPad, iPod Touch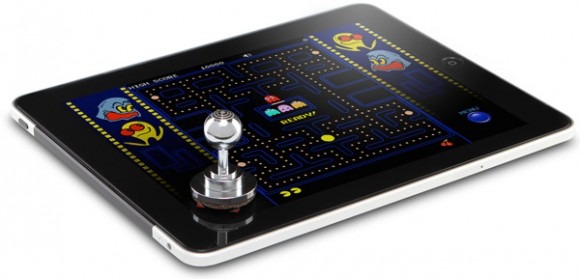 ThinkGeek has just released a nifty little gizmo called the JOYSTICK-IT that will bring gameplay on your iPhone, iPad, and/or iPod touch to the next level. The retro-looking arcade-style joystick gives you enhanced gaming precision and easily attaches to your screen without harming it.
The JOYSTICK-IT can be attached by simply pressing it down on your screen. It can be removed and repositioned without damaging your screen and doesn't require any wires or batteries. It is milled out of solid aluminum with a laser etched crosshair design on top for traction.
It works with thousands of different games on the iPhone, iPad, and iPod touch, as well as on many other capacitive touchscreen smartphones. Any game that has on-screen control pad should work with the JOYSTICK-IT. Simply place the JOYSTICK-IT directly over the on-screen control pad and push down to set in place. It will not work for swipe-based games.
The JOYSTICK-IT is now available at ThinkGeek for $17.99 for the iPhone version, $24.99 for the iPad, and is offered in a 2-pack for the iPad at $39.99.