Sending and receiving text messages is like email — boring, but necessary. SMS has never been fun, more utilitarian than interactive. Two free apps could make it fun, though — adding a richer experience to what has become a mundane experience for many of us.
Pop!
Pop takes your pictures, and lets you overlay text onto them. The great thing about Pop is that it alleviates those instances where you need to send a text with a corresponding reaction (you know, when you see someone on the street who just makes you wonder about where society is headed). You can snap a pic within Pop, and annotate it with text.
Best of all, Pop has a pretty impressive list of editing tools, like rotating and sizing text via pinch-to-size. If you don't want to take a pic, Pop suggests background colors, and even changes the text color to suit your background image or text. If you don't have an image, but want to send one, a search option within the app makes it easy and fun.
The one thing Pop doesn't do? Normal texting. Then again, that's kind of the point, so no big deal. What Pop does deliver on is fun, and that is the point.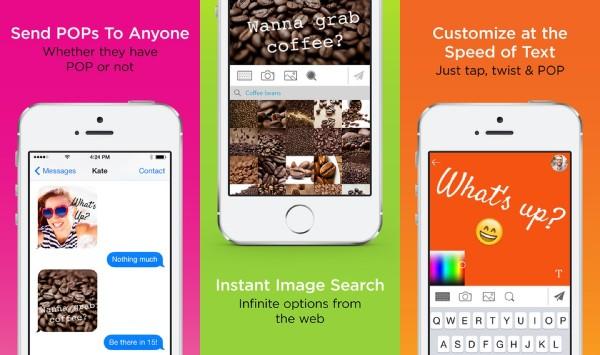 Ultratext
Do you miss the 80's? Or, maybe, did you miss the 80's entirely? Well, day-glow pants are making a comeback, and Ultratext is a very modern way to relive those times. Rather than send a text, Ultratext takes your message and slaps it into a text bubble, then scrolls your message. If anything, Ultratext is the flashy GIF of texting — and that's awesome.
Here's what's not awesome — the GIF thing is about all you can do. If you're willing to spend a buck (and you should be, because it's a buck), you can change the text color and add a pic to the GIF-y goodness. Ultratext is also neat because it lets you share to Instagram or email (you know, that other boring messaging platform).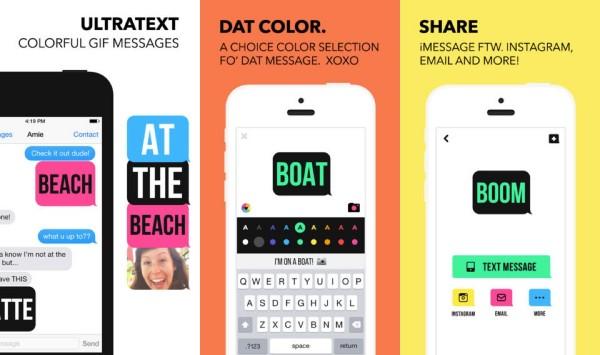 Conclusion
It doesn't matter which one you choose — both of these apps are great. It really depends on the kind of messaging you're going to do. Ultratext is quicker, as it really does the heavy lifting for you. That being the case, it's also much simpler than Pop.
Pop is wonderful for those mic-drop text moments, and does a great job of memorializing images. Someone wearing pants that don't quite fit? You're going to need Pop for that. The annotation feature is too good to pass up, and it's free. Neither app requires your recipient to have it, either, which makes them both really useful.
Neither of these apps will probably replace texting, because people you interact with might not want a GIF each time you respond (it's also not appropriate al the time, like sending condolences). Pop is great for images, but when it comes to regular texting, it doesn't get the job done. In those moments you want a bit more, though, we suggest giving either or both of these apps a shot.