These are Tesla Model X's 2 weirdest features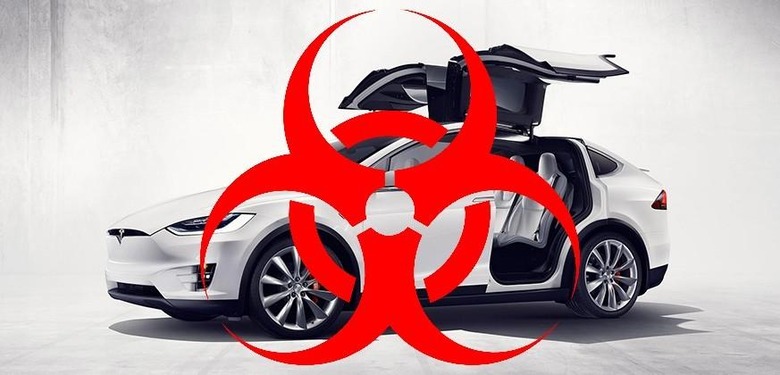 The Tesla Model X literally has a "bio weapon defense mode" in it, labeled specifically with the international biohazard warning symbol. You know the one – the sharp edges of blades around a circular target – the same symbol you see in post-apocalyptic films and games. The button is in place on this electric vehicle because the air filtration system in the vehicle is so extremely hardcore, it could potentially fend of an airborne germ attack. The filter the Tesla Model X uses for the air you breath inside is several times as large as any other filter being used on a road-ready vehicle today.
The button sits ready to be pressed on the touchscreen dash of the Tesla Model X, biohazard symbol and everything. As Elon Musk suggested at the Model X presentation this week, "test equipment" (of whatever level they used) could not detect air imperfections when the "bio weapon defense mode" was initiated. It's that good.
In the video above you'll see Musk show off the filters they have in the vehicle. Because there's no need for the standard massive gasoline engine, this vehicle has the space to place a filter as large as the one you see in the video – then there's another filter as well.
In addition to this super-powerful air filtration system – and the Bio Weapon Defense Mode on top of that – there's one more feature that fans of the rockumentary Spinal Tap are going to love: the stereo.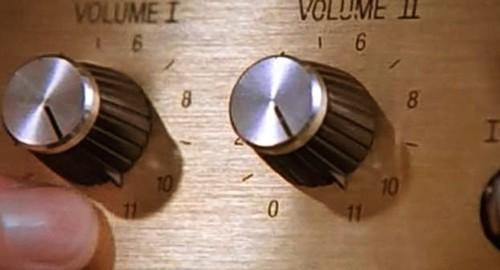 This vehicle's stereo system can go to 11. Volume is marked between zero and 11 instead of the standard 10. It's that loud!
Stick around SlashGear as we continue to run down the Tesla Model X and all things Elon Musk as well.