Thermos launches Star Wars R2D2 Lunch Box with Sound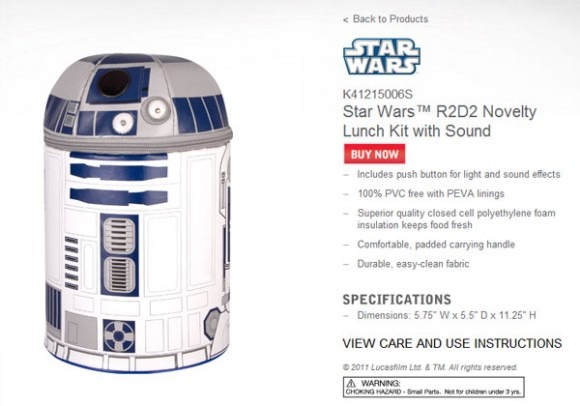 I was too young to catch the first two Star Wars flicks when I was a kid in the theater. I did watch Return of the Jedi in the theater about six times in one week when it opened though. I called both my grandparents and my various aunts and uncles looking for anyone to take me to see it again. I liked that flick a lot and I even had my own metal Return of the Jedi lunch box I rocked in grade school.
I loved that box, but inevitably, it would get squished on the bus and end up not closing correctly. Few lunch boxes are made from metal today, they all tend to be insulated plastic or just hard plastic. Thermos has been around forever as far as I know. In fact, it was the brand of drink holder that came with my old Jedi lunch box. The new thermos R2D2 lunch box is not metal.
It's a cylinder shaped insulated plastic lunch box with a zippered droid dome on top to let your kids get access to the lunchroom treats inside. The lunchbox even has a button you can press to activate sounds and annoy the heck out of the teachers patrolling the lunchroom. The price isn't noted for the cool lunchbox, but it can't be too expensive. If you have a little Star Wars fan this is the perfect lunchbox for back to school.