Thermaltake Element V Unveiled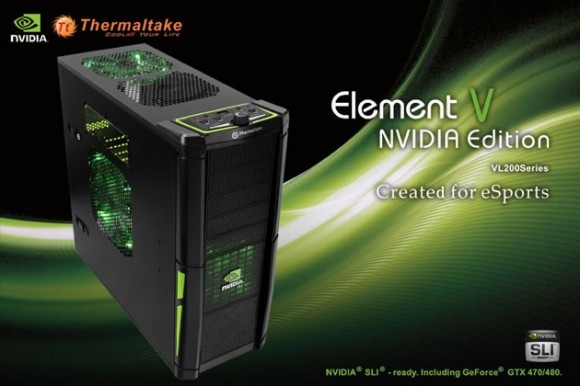 When it comes to cases, there's plenty of options. And Thermaltake is definitely no stranger to the market. But with this latest piece of hardware, the company can put a notch on their belt of "firsts." This particular model, called the Element V, is actually the very first full tower chassis to be completely certified by NVIDIA. And for good reason — it has plenty of features tucked away in here that anyone interested would probably love to get their hands on one.
The reason for the NVIDIA certification? It probably has a lot to do with the fact that the case has been modified to accommodate NVIDIA's two newest GPUs — the GTX 470 and 480. Additionally, the entire chassis has been designed with the thermal system its main priority, and its management is crucial to the fundamental attributes of the case.
Features wise, there's 11 5.25-inch bays. You can also shove six 3.5-inch hard drives in there, or one 2.5-inch model if you prefer. You could also shove one SSD in there, too, for good measure. Like we said, that thermal management is crucial for the case, and that's why we're not surprised that the companies worked together to create an entire duct system to help cool the GPUs. As for pricing, you're looking at only $219 for this amazing case.
[via Far East Gizmos]