The Yuki Loves Bradshaw Laptop Bag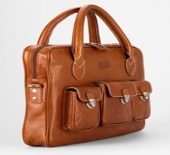 I am generally against the more conservative laptop bags, however, I actually like this one. Part of the perk is that it's one of the few laptop bags I've seen that doesn't really look like a laptop bag. It could easily be used as an oversized purse or a bookbag. I've seen girls use smaller totes for school books, so this bag wouldn't be hard to use it for that at all.
The three pockets on the front would be great for the amount of gadgets I carry and for once the small compartments are a little more chunky instead of the tiny things that tend to adorn some of the female bags. It will hold up to a 15.4" laptop.
Each bag is handmade from brown calf leather, which I'm not sure I could deal with. There will always be that small part of me that would cringe knowing a baby cow died for my fashion. I however have no issue admiring someone else with it hanging from their arm. The bag is pretty pricey though, it is being sold for $365.
The 'YUKI loves Bradshaw' bag from 21st century Diva [via shinyshiny]