The Witcher 3, of all games, is coming to Switch this year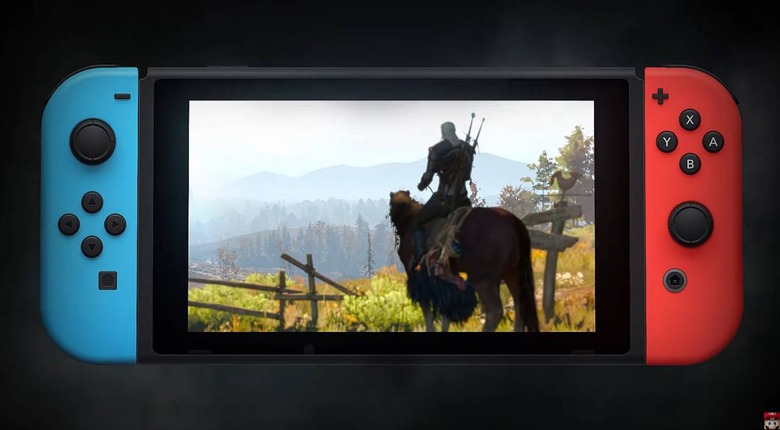 Given the Switch's less powerful hardware in comparison to its Xbox and PlayStation-branded competitors, there are some modern games that we wouldn't expect to receive Switch ports. For a lot of people, The Witcher 3 probably tops that list since it's such a graphics-intensive game. As it turns out, CD Projekt Red is bringing the game to Nintendo's hybrid platform anyway, despite its relatively underpowered hardware.
During today's E3 Direct, the big N revealed that The Witcher 3 will be arriving on Switch at some point this year. We'll be getting the complete edition too, which includes all of the DLC that's been released for the game. Chief among all that additional content are two story-based expansions, Hearts of Stone and Blood and Wine.
CD Projekt Red said today that the game will be available both physically and digitally, but unfortunately, we didn't get to see very much of the game in action. Still, the company did share a brief trailer of footage captured on the Nintendo Switch, and on Twitter said that the game will run in 540p in handheld mode and 720p with dynamic resolution enabled in TV mode.
That isn't the greatest, but obviously, we should expect something in the way of a graphics downgrade in making the jump to the Switch. Other titles – like DOOM and Wolfenstein from Bethesda – had to take a graphics hit in coming to Switch as well, so it's not surprising to hear that this port of The Witcher 3 requires similar cutbacks.
Still, if the idea of having The Witcher 3 on a portable platform is one that's appealing to you, then this could well be worth a buy when it releases later this year. We'll let you know when CD Projekt Red announces a firm release date, so stay tuned for more.