The Walking Dead creator designs Hyundai Elantra zombie survival machine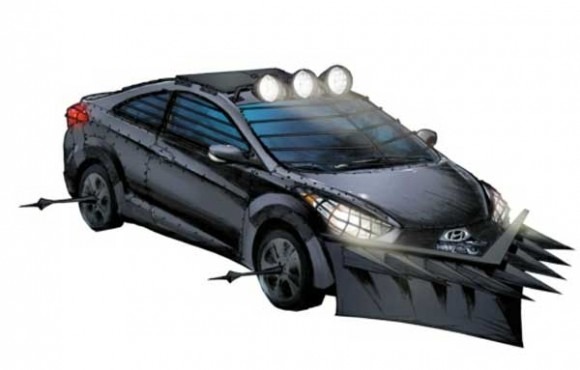 When it comes to surviving and fighting the zombie hordes, a Hyundai Elantra would never come to my mind. I'd feel better driving something much larger that could hold more bullets and beer. Still, the Hyundai Elantra Coupe created by The Walking Dead writer Robert Kirkman would probably do the job well enough.
This car may have started life as a plain, and rather boring Elantra Coupe, but it was transformed into a zombie killing death machine. It has long spinning spikes that stick out from the wheels, lots of lighting on the roof, what appears to be riveted steel panels for more protection, and a spiked plow for mowing through the zombie hordes. I also like the roof-mounted escape hatch.
The vehicle was designed to celebrate The Walking Dead's 100th issue at Comic-Con. Along with zombie killing machine; a customized Elantra GT with a wrap of the cover of the 100 issue will be given away. The image here is only a drawing of the along track zombie death machine, but apparently the car was actually built for the 100 issue celebration. Hopefully, some pictures of the actual car will turn up.