The V8 WK001 keeps your fingers nice and toasty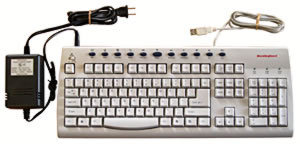 In cool offices typing on your keyboard can leave your hands cold and somewhat clammy. Instead of wearing the USB heated gloves, this heated keyboard might be a more logical approach.
It may not look like much, but if you are desperate to keep those paws toasty this might be the way to go. Not everyone enjoys sitting in their cubicle with gloves on, especially if you have an obnoxious coworker who likes to make fun of you about it.
The V8 Wk001 has two heat settings, low heat (85F to 90F) and high heat (95F to 100F). It is currently priced at $43.59.
Heated computer keyboard [via pocket-lint]