The Umeox Apollo Solar Powered Cell Phone - with Android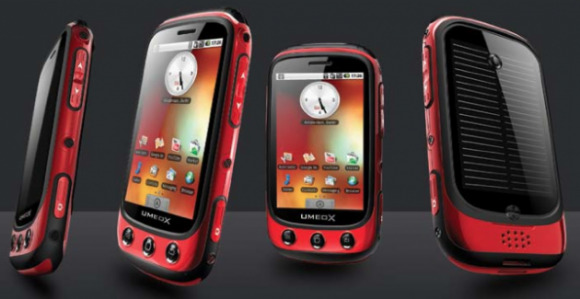 The latest solar powered cell phone was just announced at Mobile World Congress in Spain, the Umeox Apollo. The phone runs on Android, and would take about 2.5 hours of sunlight for refilling the battery after daily use. This is great news if you want to go camping and not be without your smartphone. The phone is headed for production, but there is no word on when it will actually be available in the US.The phone could also be great for travelling. But for daily use, leaving your phone out in the sun for 2.5 hours at a time probably isn't realistic. More likely, the phone would charge for 10-15 minutes throughout the day in between uses. In the event the phone goes completely dead, it would take up to 17 hours in the sun to charge it back.
While it is great to be able to use the sun to charge your phone, even supplementally, there are things to consider. Like, will the solar panel get scratched up in your pocket or purse? Will the phone get damaged by extended exposure to sunlight? Maybe a solar powered removable case would be a better idea.
There are two models: one for the US (MTK6573) with support for 850/1900Mhz bands, and one (MTK6516) that works in Europe and much of Asia.
Specs:
3.2″ 320×480 Display
1GB storage internally, with a microSD card slot
FM Radio
Bluetooth 2.1 with A2DP
3 megapixel rear camera
3.5mm audio jack
[via Treehugger]
from MobileCrunch