The ultimate device in kneecap warming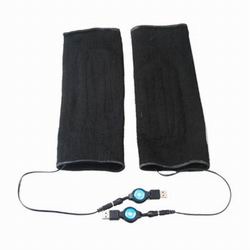 When you're sitting in your favorite computer chair working away at whatever it is you do at you PC, do your knees get cold? Yes, that's right knees. Well, if you have some strange disorder that causes your knees to get cold whilst reading Slashgear, I've finally got the cure.
USB Heading Knee Pads from Warmmi. Oh yes, it is everything that you could ever imagine. You just slip it over your kneecaps, plug it in and enjoy the wonderful warming sensation. Rumor has it that you can even use them on your elbows as well.
Seriously though, I can't ever remember a time where I thought to myself "boy my knees are really cold." Usually, my whole leg is cold, then I just change out of shorts and put on some pants. But if you think these may be for you, you can grab one for about $20.
USB Heating Knee Pads [via coolestgadgets]