The Speaker Sound Bar from Sceptre works with any TV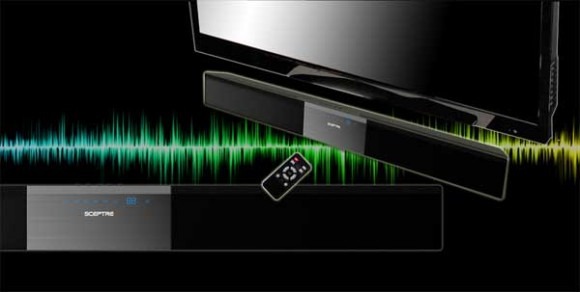 There a lot of people out there with flat screen TVs mounted on the wall or sitting on the entertainment center that want better sound than the TV came with from the factory, but lack the room for surround sound. If your TV is wall-mounted, it's not always convenient to use a traditional 2.1 or 2.0 speaker system because you may not have a shelf near the TV. In this instance, what you need is a sound bar and Sceptre has a new one that will work with any TV.
The new Sceptre sound bar is simply called The Speaker Sound Bar. It has dual speakers inside and promises to double the sound capability of your TV. The speaker bar has high-efficiency amplifier technology able to create rich 3-D virtual surround sound. The sound bar offers four different audio modes including movie, music, news, and sports.
Input options include dual RCA analog and a SPDIF digital input. Most modern TVs have a digital output it would work perfectly with this input option. The sound bar can be mounted on the wall or it can set on the entertainment center underneath the TV. The individual speakers inside the sound bar measure 2.5-inches in diameter.
The response bandwidth of the system is 20 Hz – 20 kHz. The sound bar weighs 5.07 pounds with the wall mount installed, and it measures 37.25 x 3.5 x 2.28" without the wall mount. One of the best features of The Speaker Sound Bar is that it's available for $169.99 at local retail outlets.