The SoundTile Speakers from Kohler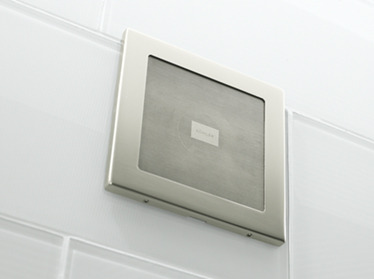 A large portion of people enjoy their tunes while they are in the shower. Some actually invest in fancy radios; others just stick a regular cd player on the back of the toilet. Well Kohler has developed set of speakers that definitely look a lot more chic than most of the other options on the market now.
Polk Audio and Kohler actually teamed up to create this set of speakers. The finish on the speakers can match any of the in-shower hardware offered by Kohler.
The speakers can be controlled with the company's DTV II or your own personal audio system. The SoundTile Speaker will cost you $295 per pair depending on the finish.
SoundTile – Speakers for the shower [via coolest-gadgets]