The sleek GLAS smart thermostat is losing Cortana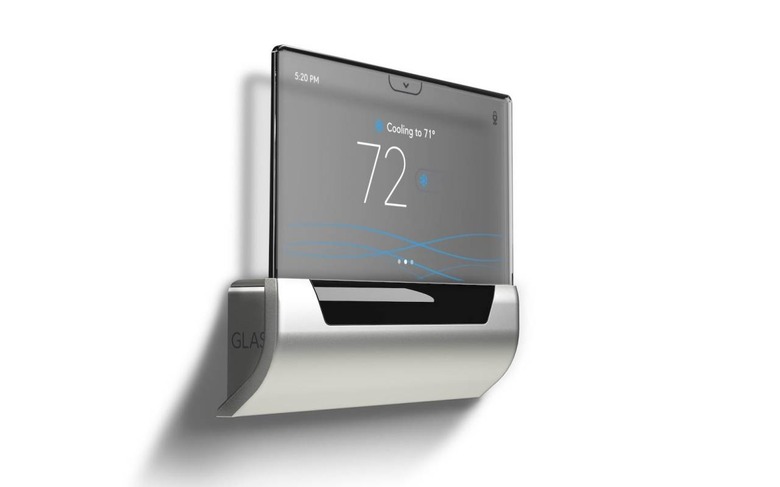 The GLAS smart thermostat was to be Cortana's big expansion in the connected home, but the stylish glass HVAC controller is losing Microsoft's assistant it has quietly warned owners. The unexpected news follows Johnson Controls adding Amazon Alexa and Google Assistant control support to its platform.
It's fair to say that, even in an increasingly crowded line-up of smart home tech, the GLAS smart thermostat stood out. Indeed, it did so quite literally: the transparent glass touchscreen is mounted on a wall bracket that holds it out, with a gap between it and the wall itself.
The other big selling point was Cortana integration. While the GLAS thermostat could be controlled by touch, as you'd expect, remotely through your smartphone, or by being left to its own devices and running its own scheduling, Microsoft's virtual assistant provided voice control. That's because the GLAS actually runs Windows 10 IoT Core.
Now, though, one of those key features is being removed. Johnson Controls notified owners of the GLAS thermostat today that an upcoming firmware update would remove Cortana support.
"Soon, your GLAS smart thermostat will go through a software update," the email, passed to SlashGear by a GLAS owner, warns. "The Microsoft Cortana voice assistant will no longer work on your device. Moving forward, you will still have access to other voice assistants to control your thermostat through the Works with functionality of Amazon Alexa and the Google Assistant."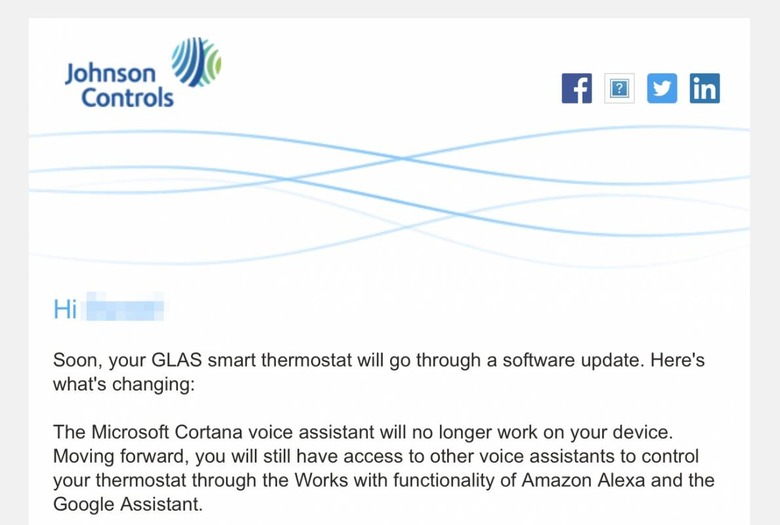 While Alexa and the Google Assistant are undoubtedly more commonly associated with the smart home and IoT than Cortana, they're not enabled in quite the same way on the GLAS thermostat. Cortana was integrated into the thermostat itself, using its own microphone. In contrast, Alexa and Google Assistant support in the same manner is only enabled if you connect a separate Echo or Google Home device, or similar, to your GLAS account.
The Amazon and Google assistants were late additions to GLAS. Johnson Services only added the functionality shortly before preorders began, presumably in recognition that many existing smart home installations would already have committed to one of the more widespread platforms.
It's unclear why Johnson Services has opted to remove standalone Cortana support, but it's unlikely to go down well with owners who likely picked GLAS because of its integration with Microsoft's assistant.