The Sharper Image Compact Computer Desk with Speakers is odd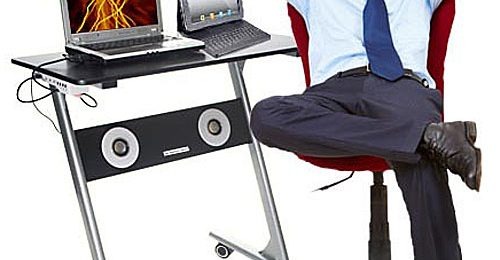 The Sharper Image has been around for a long time and offers some of the strangest, and at times cheesiest, gadgets and accessories for technology fans you'll find outside of Japan. If you work from a notebook, you may be using a laptop docking station with USB ports and a cooling fan. If you have a really fancy docking station, you might even have a couple of extra speakers inside.
Almost all the docking stations I've seen are designed to sit on a desk or in your lap. The Sharper Image has a new one that is a desk. The device is unimaginatively called the Compact Computer Desk with Speakers. As far as laptop stands go, it's not particularly compact, but compared to full-size desk I can see where the name comes from. This desk has a flat top with integrated cooling fan and a USB hub on the left side.
Down near the user's knees are pair of USB powered speakers. The entire thing is on rollers so you can move around your home or office. The desk measures 30 x 16" and the hub has three USB ports. That leaves enough space for your notebook and an extra monitor or your tablet. You can pick one up right now for $99.99, assuming you have questionable taste.
[via EverythingUSB]