The Samsung Gear 360 camera finally has a full release date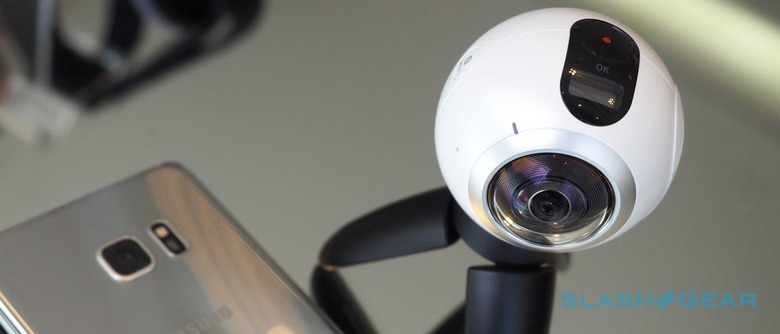 Samsung's Gear 360 camera has been teasing us for some months now, with a handful of limited-availability releases most people can't take advantage of, but the 360-degree camera has finally got a full launch date. Announced alongside the Galaxy S7 and Galaxy S7 edge, the ball-shaped shooter will finally go on sale online later this month, on August 19th.
It'll be priced at $349, which will net you not only the camera itself but the handy little folding tripod that screws in underneath. That's a regular tripod mount, mind, so if you'd rather you can use the Gear 360 with a full-sized tripod, a suction mount for your car or bike, or any other bracket you may have already.
The camera – which has variously been compared to a robot from Portal and a tiny octopus, among other things, when I've shown it to people – has two sensors, one on each side, and each fitted with a wide-angle f/2.0 lens. Together, they can capture a full spherical image or video, at up to 25.9-megapixels for stills, or 3840 x 1920 for footage.
Both can be shared on select social networks like Facebook, or viewed through a VR headset such as Samsung's own Gear VR. There's a new version of the latter announced today, too, alongside the Galaxy Note 7.
While it's not a ruggedized camera like a shell-encased GoPro, Samsung does promise IP53 dust and water spray resistance so a little rain shouldn't damage the Gear 360.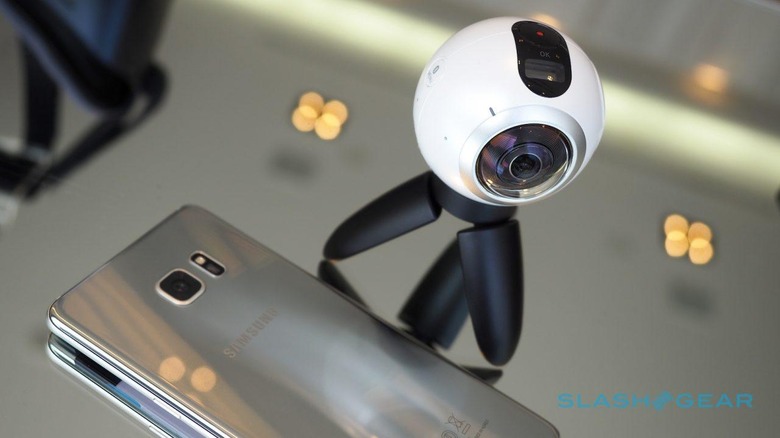 The camera itself has basic controls to switch through video, photo, looping video, and time-lapse modes, adjust the resolution, choose between 360- and 180-degree recording, and of course take a photo or start recording. However, courtesy of Samsung's app for its Galaxy phones, along with Bluetooth and WiFi Direct, you can remotely control it, use the handset as a viewfinder, and transfer captures across for sharing.
A Windows app allows 360-degree footage to be edited, though right now there's no counterpart for iOS or macOS.
Though it's not the first 360-degree camera to market, the Gear 360 does find itself in relatively niche company. That's even more the case when you consider that many of its rivals come with sky-high pricing: Facebook's DIY camera, for instance, costs around $30k to piece together, while Nokia's OZO is double that.
More direct competitors are Ricoh's Theta S, which costs the same as the Gear 360 but has lower-resolution capture, and LG's $200 360 CAM, cheaper but also unable to match the Samsung for image quality.
Do you need a 360-degree camera? Most probably won't, but Samsung is counting on everyday photographers to bolster its Samsung VR store, which will support user-generated content alongside commercial releases. Standby for my full review.