The Perfect PC for Your Car - Uren A1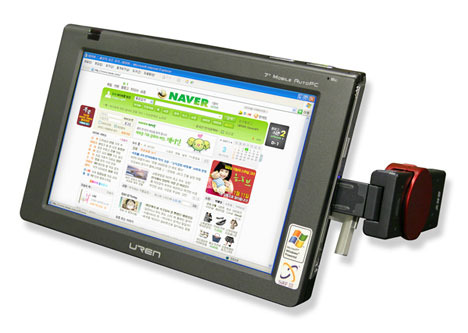 Anyone that knows me knows that I don't leave my computer unless it's absolutely necessary. Driving is one of those times where I'm still forced to disconnect. Well, I do have my phone, but one of these days I'm going to get in a wreck trying to surf the net on it.
The Uren A1 from Innowell might just be what I'm looking for. It's got a 7" touchscreen, so there's no mouse to bother with. It's running Windows XP and powered by an AMD LX800 with an integrated SiRFStarr III GPS chipset and HSDPA connectivity. It will also be able to play multimedia content, so you won't need your portable DVD player or even a separate mp3 player for those long trips.
With a $750 price tag, I can't wait to get my hands on one. For the money, it can't be beat, you can hardly get a good GPS, DVD player, and mp3 player for that price tag, and you still get a fully-functional Windows XP machine.
Uren A1 in-car computer [via ubergizmo]