The New York Times offers discount on Samsung Go to Times Reader 2.0 subscribers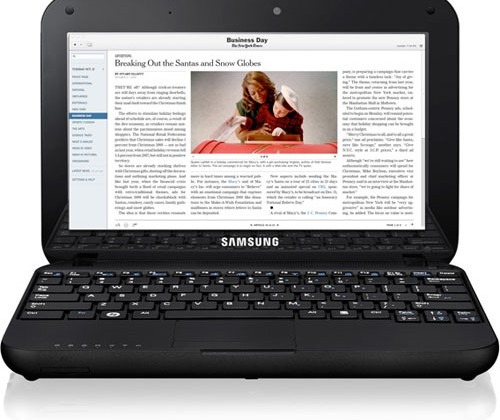 Print publications are having a hard time getting people to subscribe and pay to read their news. Even long time established publications like the New York Times are finding it harder and harder to woo subscribers and are seeing their profits drop significantly. In an effort to save money, some print publications have gone entirely online and others are beefing up their online offerings. The New York Times is offering a deal for users to subscribe to its digital version.
The digital version is called Times Reader 2.0 and runs on notebooks and netbook computers. The app puts the times on the computer in a format that looks like the printed paper. A subscription to the service for a year is not cheap though at $179.40.
The NYT is offering those who sign up for the service at that price a
on a Samsung Go netbook at J&R. The catch is that the netbook is still expensive after the $100 discount at $279.99. You can find similar netbooks for less than that amount already and get your news for free online. The Go has a 10.1-inch screen, 1GB of RAM, 160GB HDD, and an Intel Atom N270 CPU.