The MP3 Player Travel Case comes with speakers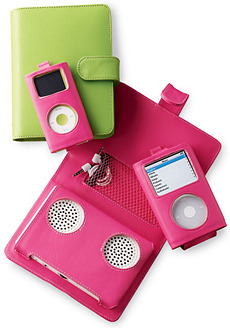 Sometimes having a set of speakers to toss in your purse or suitcase is extremely nice. This cute little travel case not only is a case to keep your iPod safe but it also has a nice little set of speakers thrown in.
Another nice perk is that it blends in as just a normal planner, for those that like to disguise their gadgets a bit. The case is made of leather and the speakers use three AAA batteries.
It comes in black, lime green, hot pink and pink. One of the models is on sale for $59.90 and the other for $80. It also comes in bronze and gold, those two are sold for slightly more at $95 a pop. The cases will hold either the iPod Nano (it appears that they are referring to the original Nano) or the iPod classic.
[via likecool]