The Mini Alarm Clock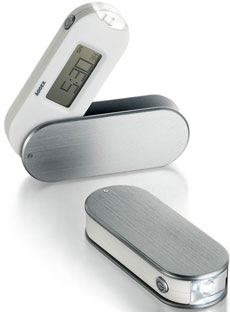 For those that travel quite often, those hotel alarm clocks don't always seem trustworthy enough. Generally, if you actually attempt using the foreign alarm clock you spend the rest of the night sweating that maybe you set it wrong. This Mini Alarm Clock is portable enough to take with you wherever you go.
Sadly, this device seems about 10 years too late, since most of us just use our cellphone for an alarm when we're away from home. However, it does also have a built in flashlight and sometimes those alarms in our phones malfunction a bit. That or you may not have an annoying enough ringtone to wake you up in the morning. So, if you need an alternative this little clock is just the thing.
It measures 1" x 3" x .75" therefore it would be great to just toss in your pocket or in an overnight bag. It also includes a calendar, stopwatch and timer. All together it costs $25.
Mini Alarm Clock [via book of joe]