The MagicGlobe Solar Light Sphere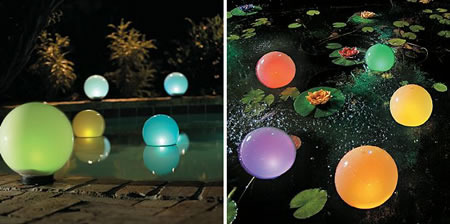 Outdoor lighting has finally become interesting. Everyone has become bored of those typical solar powered lights you stick along your walkway, and this MagicGlobe Solar Light Sphere is a far cry from it.
Not only can you use the stake to use them in the ground, the pedestal to use it on a tabletop or float them in water. Creating a spooky atmosphere, that makes you feel like you've stepped through the looking glass. The solar powered light can automatically glow for up to 12 hours.
The sphere cycles through different colors, yellow, magenta, red, green, lilac, orange, blue, mint and purple. Unfortunately these lights are sold individually for $49. Oh, the price we pay for shiny lights.
Floating MagicGlobe Solar Light Sphere [via geekalerts]