The Lexus LC 500 Convertible is more stunning than we dared hope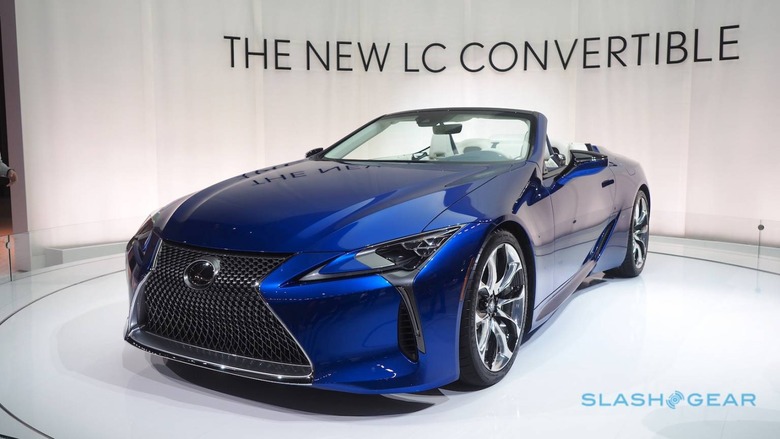 The Lexus LC was arguably born to be a drop-top, and the 2021 Lexus LC 500 Convertible delivers on that at the LA Auto Show 2019 this week. Slicing the roof of the concept-esque two door wasn't exactly an easy proposition, however.
For a start, there's the usual issues faced in going from hard-top to soft. Chassis stiffness typically takes a hit, while adding extra reinforcement can leave the convertible version much heavier.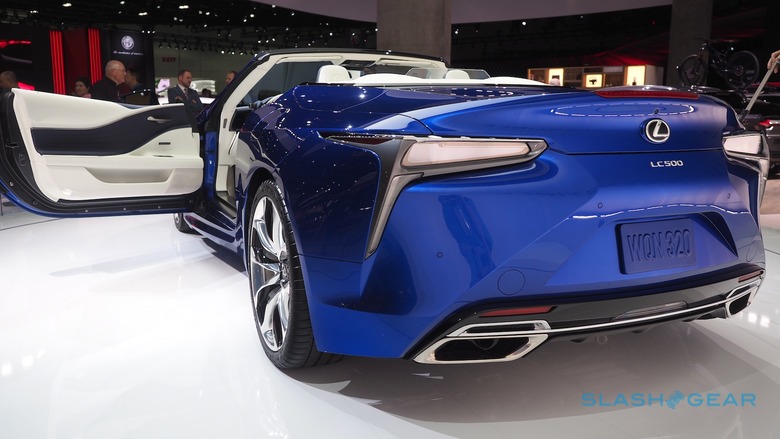 For the LC specifically, Lexus had to deal with the distinctive sloping rear glass of the coupe, and figure out how to translate that rear deck into a convertible. The answer is a four-layer soft top, designed to hide the individual supporting ridges inside. It can be opened and closed at speeds of up to 31 mph, taking around 15 seconds to open and around 16 to rise back up again.
When it's open, you should be even better positioned to enjoy the sound of the naturally-aspirated 5.0-liter V8 engine. Lexus is a hold-out there, avoiding turbocharging or supercharging, but still squeezes 471 horsepower and 398 lb-ft of torque from its gas mill. It's paired with a Direct-Shift 10-speed automatic transmission. A sound pipe helps bring some of the distinctive burble into the cabin, rather than using artificial noise-generation.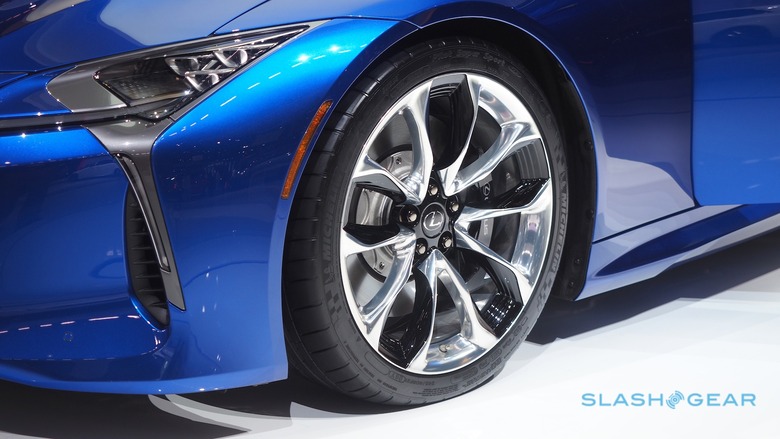 A cut in unsprung weight for the front suspension, and a new rear suspension brace tower with a lightweight die-cast aluminum suspension brace help with stiffness. There's also a new performance dampener for maintaining ride comfort. The new trunk gets a "kicked-up" design with the relocated brake light at its center.
Both black and beige tops will be offered, and ten exterior finishes: Ultra White, Smoky Granite Mica, Liquid Platinum, Atomic Silver, Obsidian, Caviar, Infrared, Cadmium Orange, Flare Yellow, and Nightfall Mica. There'll be Black, Circuit Red, and Toasted Caramel interiors. Lexus plans to make 100 of the LC 500 Convertible Inspiration Series, as shown here, with Structural Blue paint, a matching blue roof, and white leather interior; it'll ride on 21-inch chrome and black wheels.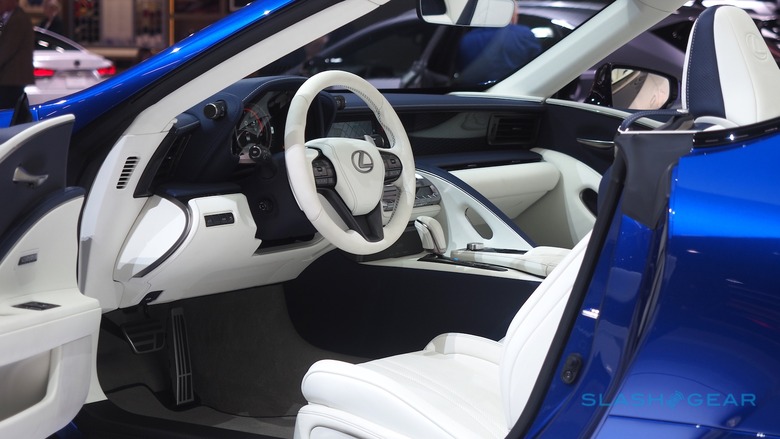 Inside, there's a special HVAC system which is designed to adjust automatically depending on whether the roof is up or down; there's also neck heaters and automatic temperature adjustment using the Lexus Climate Concierge system. There's a heated steering wheel, together with special vents that direct hot or cold air to the back of the driver's hands, deeding on the conditions.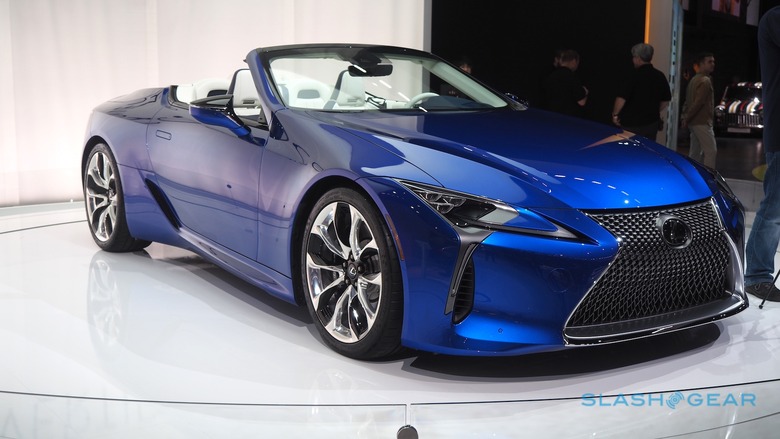 A transparent polycarbonate wind deflector is installed to avoid buffeting in the cabin, and there's an optional wind screen for even more protection. The 10.3-inch display is the same as in the coupe, with Apple CarPlay and Amazon Alexa support. On the safety side there's Lexus Safety System+ as standard, with pre-collision protection, pedestrian detection, lane-keep assistance, adaptive cruise, and blind spot monitoring, among other things. The Convertible adds active roll bars that pop up in a crash situation.
The 2021 Lexus LC 500 Convertible is expected to go on sale in the summer of 2020. Pricing will be confirmed closer to release, but with the LC 500 Coupe starting at $92,950 we'd expect the drop-top version to nudge into six figures.