The Jellyfish Mood Lamp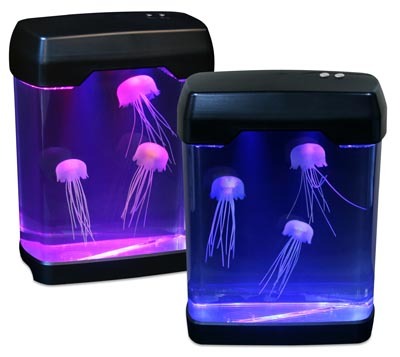 When I think calm and relaxing the first thing that pops into my head, like most of you I'm sure, is jellyfish. I could spend hours watching the majestic jellyfish float around in its underwater paradise, and if you buy the Jellyfish Mood Lamp, so could you.
The lamp comes with three jellyfish which float around in a slow current creating a pleasant viewing experience. The best part of course is the LED lighting and whether you're a rainbow of color or a solid color kind of person, you'll find a setting to enjoy.
You can buy the Jellyfish Mood Lamp from Think Geek for $50. Not only is it great for creating the perfect atmosphere, it'll also complete any Spongebob themed décor.
The Jellyfish Mood Lamp [via Gadgettastic]