The i-SOBOT takes home 2008 Robot of the Year Award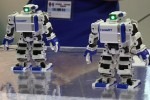 Takara Tomy's Omnibot 17μ i-SOBOT, has been recognized by Guinness as the smallest mass-produced robot of its kind and was crowned Japan's 2008 Robot of the Year. The annual Robot of the Year Award was started by the Ministry of Economy, Trade and Industry (METI) in 2006 to promote development of robots in many industries.
The grand prize this year was awarded to i-SOBOT because of the advanced technology, reasonable price  – 30,000 yen (around $300) and high entertainment value. I-SOBOT is equipped with 17 miniature servomotors as well as a set of gyro sensors to help keep balance.  This robot only weighs 350-gram (12 oz) and is 16.5-centimeter (6.5 in) tall.
Among the cool things this humanoid can do are walk, play air guitar, dance the hula, and 200 other moves. You can control this robot with a remote control or using voice commands. Four AAA batteries will get you about an hour of use, which is not too bad given the nature of this robot. In addition to the Grand Prize, this year's Small to Medium-sized Venture Award was presented to "Book Time," an automatic page-turning robot developed by Nishizawa Electronic Measuring Instruments.