The HP Magic Giveaway: SlashGear is one of your 50 chances to win!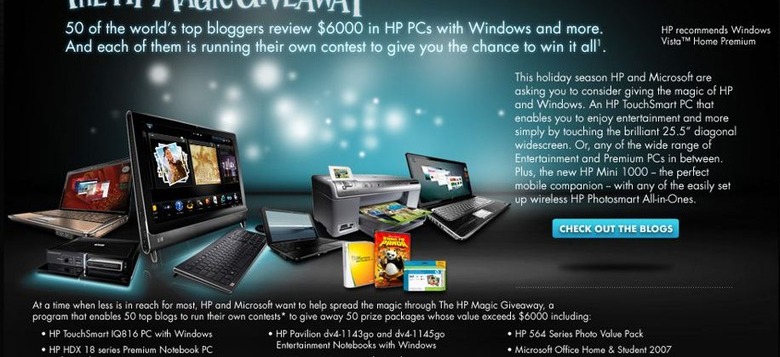 The holidays are coming, Black Friday is almost here, and SlashGear is excited to be taking part in this year's HP Magic Giveaway, sponsored by HP and Microsoft.  If you've been wondering what to get your gadget-obsessed friends and family then rest assured, this is one prize package that's just crying out to be shared: more than $6,000 of desktop, laptop and netbook PCs, peripherals and software.  Check out the full list, and more details, after the cut.Update: You can enter here!Hardware
• HP TouchSmart IQ816 PC
• HP HDX 18 series Premium Notebook PC
• HP MediaSmart Connect
• HP Pavilion dv4 series Entertainment Notebook PC (with Windows Live)
• HP Mini 1000 (with XP)
Accessories
• HP Photosmart C6380 Wireless AIO (printer)
• HP 564 Photo Value Pak
Software
• Microsoft Windows Vista Ultimate/Home Premium or Microsoft Windows XP pre-installed on all units (Mini 1000 runs XP)
• Microsoft Office Home and Student Edition 2007 (Student-Teacher Edition) – 1 DVD with 3 licenses
• Microsoft Windows Live
• Corel VideoStudio X2
Entertainment
• Kung Fu Panda (2 widescreen DVDs; 1 widescreen Blu-ray disc)
In all, there are fifty sites participating in the giveaway, each with $6,000 worth of HP and Microsoft goodies to distribute.  We can't tell you exactly what you'll need to do to win, nor the dates on which you'll be able to enter, but rest assured that the competition will be as all-inclusive as we can make it – we're desperate to give all this stuff away! 
Remember, the SlashGear HP wx4600 Workstation Giveaway is still running, with a $2,000 Core 2 Quad machine up for grabs.  You've got until December 10th to enter – that should keep you busy until the HP Magic Giveaway kicks off!