The HomeStar Spa turns your bathroom into a planetarium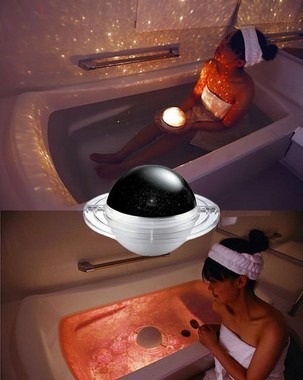 If you enjoy your baths but candlelight isn't quite the right mood for you, this cool little planetarium is definitely great for those that are in need of mood lighting. With this you can lay back as it casts pretty starry skies onto your walls.
It makes me wish I could sit still long enough to soak in the tub, however, I just tend to enjoy showers way more. For those that aren't as squirmy as I am, you can also flip the planetarium over and have it cast different colors and designs into the water itself.
The Homestar Spa from SEGA Toys is being sold for $70. It might also be cool for those with hot tubs to give different lighting than the boring colored bulbs that are usually featured in hot tubs.
[via geekologie]