The hangman table lamp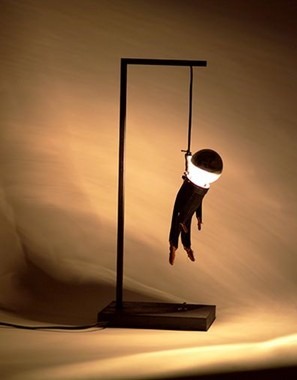 I have over time gotten a bit bored of my bedside lamp. Yes, it shines on my nightly read, but it's just so normal. It doesn't move, do tricks or even have a geeky flare. However, I think my search is over, this hang man is perfect for my bedroom.
Yes, it might creep out anyone who spots it, especially in the bedroom, but it's just too morbidly fascinating to pass up. The table lamp called Colgao was handmade by en Pieza! studio.
The materials used were electric wire and iron which was treated to prevent corrosion. It was created sometime in 2007 but the site does not state how to get a hold of the product or when it might be released.
[via cribcandy]