The Gotta Go Briefcase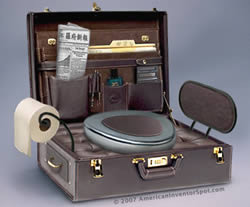 No one will ever need Depends again! When you have to go, just grab your Gotta Go Briefcase from the Niban Too Corp of Japan. The great part is, I'm actually not kidding, as far as I can tell this is actually real.
Apparently two Japanese corporate masterminds decided to create this for better time efficiency. As you can tell from glancing at the picture it's toilet within a briefcase. It even has a spot for your t.p. and room for some newspaper and other important reading materials. I dug back as far as I could looking for a punch line with this invention and found the original article in American Inventor Spot. I read through all kinds of stuff and they are actually serious about this.
The briefcase is water proof, and actually has Mahogany leather; you wouldn't want to look trashy carrying around a portable toilet to the office. Among the many features is a cup holder, a small tray, hand sanitizing dispenser, and a vanity mirror. It is recommended that you add an air freshener, shocking, I know. Unfortunately, you have to be careful to empty it since it only will hold 175 lbs. If you exceed that capacity it will void your warranty and may rupture the tank and you really don't want to do that.
Skitsmart resvaska [via Smidgit]