The Google Assistant now knows if your August door is ajar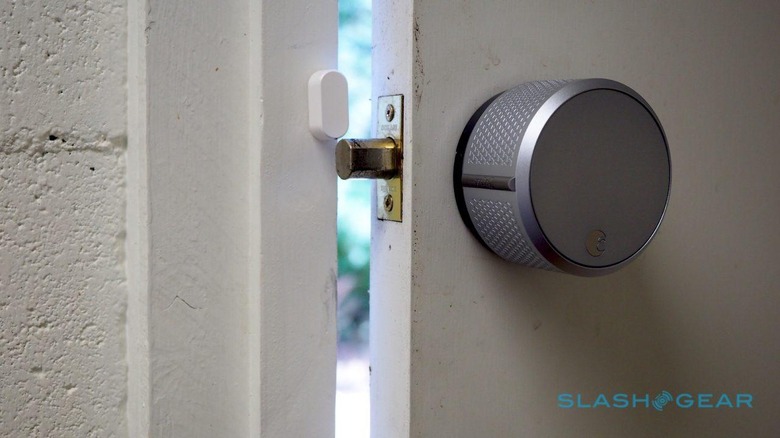 August's smart locks are getting tighter integration with the Google Assistant, including helping the paranoid get closure over whether the door is actually closed. New functionality has been added to the Assistant, which now allows for lock status to be checked on, in addition to the existing features.
August and the Google Assistant first hooked up last year, with the ability to ask a Google Home or the Assistant on a smartphone to remotely lock the door. What it couldn't do, however, was warn you if the door had actually locked properly. That's something August added with its latest Smart Lock and Smart Lock Pro in 2017, with a feature it called DoorSense.
That adds a small sensor to the door frame next to the lock. If the bolt is fired, but – because the door has been left ajar – it doesn't actually secure things, DoorSense can flag that up in the August app. It's that integration which is being added to the Assistant today.
So, you can ask "Hey Google, is my front door closed?" and the Assistant can check with DoorSense. It's handled separately from locking, too, so you can make sure the door is closed but not actually locked, for example.
Meanwhile, the way in which you interact with August and the Assistant has also been streamlined. There's no need to tell the AI to "Ask August" now: when you set up the locks in the Google Assistant app, it automatically recognizes their name and knows what you're talking about when you ask for a specific door later. The downside to that, though, is that anybody already using the Assistant until now will need to re-register their locks if they want to skip the "Ask August" instruction.
Google's AI isn't the first assistant technology to get DoorSense integration, mind. August enabled it for Amazon's Alexa last year, allowing owners of an Echo to ask "Alexa, is my front door closed?" and have the smart speaker report back on the lock's status.
Whichever your assistant or smart speaker of choice, you'll also need to have something bridging your Smart Lock onto your WiFi network. If you bought an August Smart Lock Pro, it comes with the August Connect bridge in the box; that's available separately for regular Smart Lock owners, too. Alternatively, the August Doorbell Camera also works as a WiFi bridge.