The Future of Retail: Apple's Grand Central Station Store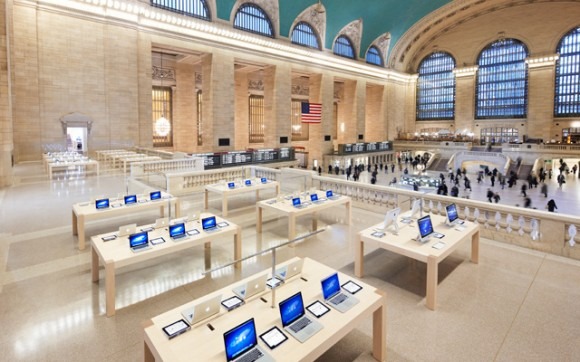 Earlier this month, Apple opened a new store inside New York City's Grand Central Station. This is not Apple's only store in Manhattan and does not make a dramatic architectural statement like its Cube on Fifth Avenue. Much of its retail model has been seen before in other Apple stores. Yet when I visited it just before it opened it felt radically different than any other retail environment – even different from other Apple stores – and serves as an object lesson for how to sell and support digital products at retail in an increasingly online world. Even if you dislike Apple's products (or just some of its more enthusiastic fans), if you're in Manhattan, Apple's store is worth a visit. Apple claims that it sells more per square foot than any other major retailer in the world, and while some of that is due to products that sell well on their own, Apple's retail store processes, compensation structure, and architecture all play roles worth investigating.A Science Museum / Art Gallery
The first thing you notice when you enter the Apple Store in Grand Central Station is that you haven't entered the store or left the station. While there is a staircase to ascend (you know you're going in the right direction because a glowing Apple logo is at the top of the stairs), there are no walls. There is no discrete ceiling, either – just the arching roof of the enormous main hall, which is so high that it might as well not exist. The lack of a separation between the station and the store area highlights unique aspects of Apple's retail approach that have been seen in other stores before – there are no product boxes on shelves, just wide aisles interrupted by large wooden tables with evenly spaced Apple products on them. There are no light fixtures hanging from the ceiling in the cavernous space. Rather than suspend light fixtures from the ceiling and destroy the open feeling, each table is illuminated by an incredibly thin aluminum "T"-shaped LED lamp in the center of the table that nearly disappears. The Grand Central Station Apple Store does not feel like a store at all. Instead, it combines elements of a hands-on science museum with an art gallery.
[aquote]The Grand Central Station Apple Store combines elements of a hands-on science museum with an art gallery[/aquote]
The shopping experience at Apple's Grand Central store is mostly similar to other Apple stores, and the changes implemented here are being rolled out globally. Throughout nearly the entire store, there are no product boxes on display, just big tables with evenly spaced products and wide aisles. Every device in the store is live, loaded with apps and ready for hands-on experimentation (compare this to your average big box outlet or carrier retail store where many products are not properly charged, none have apps, and dummy units still exist). Help isn't just at the Genius Bar, but all around you. If an Apple employee isn't lurking nearby, you can ask for help via the iPads affixed to the tables as informational displays. Employees carry iPhones in cases which have built in credit card readers, and when a customer asks for help, a map of the store and the location of the customer requesting help (based on the unit used to call for help) is broadcast to the phone/sales terminal of every salesperson in the store. Once one responds, the employee's picture appears on the iPad that was used to summon help to provide a visual cue to the customer for who to look for in what is sure to be an incredibly busy environment.
From that point on, the employee never has to leave the customer's side. Employees can act as a trusted advisor – they are non-commissioned and are trained to solve problems, not just sell Apple Care (though there are store quotas they aim for, so at some point, gentle pressure may be applied). There are no cash registers or lines, and the employee does not even leave the customer's side to close the sale or get products out of inventory. Instead, the employee swipes the customer's credit card right there, and the order is relayed to a runner who brings the product directly to the customer. This part of the experience feels a bit like buying a copy of an item on display at an art gallery.
Help Yourself
Self-serve is hardly a new innovation in retail overall; consumers can check themselves out at thousands of grocery and home improvement stores across the country. However, it has never really been tried at electronics stores until now. Armed with an iPhone and an Apple Store app that scans barcodes using the camera, customers can buy accessories by EasyPay, which debits the credit card on file with iTunes without ever interacting with an Apple employee at all. There are no obvious security measures in place in the accessories room – and it is one of the few areas in the store that is a true room with regular walls – and there is no Costco-style greeter checking e-receipts.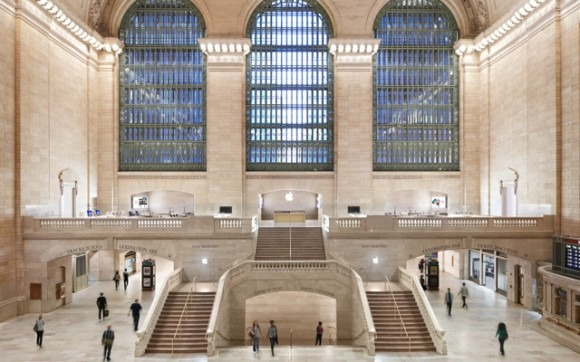 Still, while Apple is showing consumers a remarkable level of trust, I assume there are hidden cameras, a live feed of EasyPay transactions, and security guards monitoring them in the background (this is New York City, after all). iDevices cannot be bought using EasyPay, nor can some accessories. If there is logic to which products can and cannot be purchased this way, it eluded me. It is not based on price; Monster Beats headphones ($299) can be purchased via EasyPay. It is not based on brand or complexity, either; Apple TV units ($99) require a salesperson, while an Apple AirPort Extreme Base Station ($179) can be self-purchased. The process is clear and simple, though: if a product cannot be purchased using EasyPay, the app offers the ability to summon a store employee for the transaction instead.
In addition to the Genius Bar for free tech support and staging areas where customers can purchase individualized training, Apple has long used its stores to offer free educational seminars on its products and how to accomplish various computing or creative tasks. For its store located in a commuting train station, somebody had the brilliant idea to offer Express Workshops during morning and evening rush hour. These 15 minute mini-sessions are perfect for gearing up before a day at the office (Productivity Apps, 9 AM – 9:15 AM) and what to make for dinner before catching the train home (Cooking Apps, 7:00 – 7:15 PM).
Where is Apple TV?
[aquote]The current layout makes it awfully hard to showcase Apple TV[/aquote]
The one odd note is that the store does not have any televisions – or really any room to demonstrate one. Freestanding tables are not ideal environments to show off living room staples that are often wall-mounted, and if Apple did put large televisions on the tables, it could obscure the open layout that makes the stores unique. This does not mean that the rumors of Apple's entry into smart TVs are false, but it does mean things will need to be reconfigured at retail if Apple does decide to enter the market. Even if Apple does not start offering a line of 50" HDTVs, the current layout makes it awfully hard to showcase Apple TV. Indeed, even in the largest of Apple's existing mall and standalone stores, Apple TV is, at best, shoved off into a corner. This presents possibly the only area where Best Buy outdoes the Apple experience – its Magnolia store-within-a-store areas have pseudo living room suites where the virtues of home theater and streaming media players can be experienced.
Physical Retail vs. Online
Apple spends extra for premium, high foot traffic locations to make it easy for people to stop in and play with the products even if they aren't in the market for a new phone, tablet, or computer. While Apple continues to sell plenty of products online at Apple.com, the evolution of its retail store environment ensures that consumers – even ones who ordinarily buy electronics almost exclusively online – have a reason to come to the store. And then they buy.